Medical Student Testimony
After completing several orthopedic rotations during my 4th year of medical school, I found out my favorite mountain destination had an orthopedic group that took medical students. I feel immensely grateful for receiving the opportunity to rotate at the Mammoth Orthopedic Institute because this was the best rotation of medical school, and simply put, if you are interested in a career in orthopedics then come rotate here! The Mammoth Lakes area speaks for itself, but the experience with their orthopedic team is unmatched in terms of quality, exposure, connection, learning, and lifestyle.
You can expect heavy involvement in their surgical, clinical, and academic endeavors.
Drs. Crall, Gilmer, Karch, and Knecht are world class surgeons and great teachers that give students a true hands-on experience covering the spectrum of orthopedics with unique sports-related trauma mixed in (I saw an abundance of tibial plateau, distal radius, clavicle, ankle, and hip fractures on my rotation). In addition to honing my arthroscopy skills, I was able to experience and participate in cutting edge reconstruction procedures - BioUni OATS and MACI, smooth as butter computer-assisted total hips/knees/ankles, MCL/POL reconstructions using a hamstring autograft, and ACL reconstructions using a quadriceps autograft.
In clinic, you work one-on-one with the attendings and each of them takes the time to teach unique orthopedic concepts, how and why certain aspects of the physical exam are performed, and what questions are vital so you don't miss those important findings in your future career. During my rotation, I had the distinct opportunity to see the workup and treatment of a fairly uncommon significant suprascapular neuropathy. Additionally, rotating here gave me a rare insight into the stories and lives of elite athletes that are members of the local community.
There is a monthly journal club where students are given the chance to present articles to the group and lead discussions on their merit and significance. It was great to see how current literature can have practice-changing effects in real time!
The team also includes very talented orthopedic PAs that help teach us students tips and tricks as well as an incredibly warm and nice staff that treats you as a vital part of the group.
This rotation was a true privilege, an incredibly memorable experience, and the ultimate ending to my medical school career. I will miss working with you all and thank you for having me!
Daniel Kasman
Des Moines University, IA
We are proud to be active in advancing the career goals and aspirations of our students and rotators. There is nothing more rewarding than receiving a note like this one from a former student who has now moved on to the next step in their training.
I had the opportunity to rotate with the Mammoth Orthopedic Institute (MOI) team for a month-long elective as part of my fourth-year medical studies.
I had the privilege of working with both the surgical and clinical staffs. Immersing myself with the surgeons, nurses, scrub technicians, physician assistants, and the rest of the clinical team was easy because of the work environment they created. From the moment I started, I felt a part of the team and everyone was willing to help me along the way. I gained an appreciation for each role involved in the execution of surgery, starting with the proper positioning of the patient to having the appropriate tools ready for each case. Every member in the operating room plays a vital role to the success of the surgery and I had the opportunity to experience this in real-time.
I worked closely with Drs. Gilmer, Crall, and Karch throughout my time in Mammoth Lakes, CA. I was welcomed to their respective teams and learned what it took to become a successful orthopedic surgeon. Each surgeon emphasized the importance of preparation and communication, as these skills are required for the operating room. Additionally, they are great teachers and helped build a solid foundation in orthopedic surgery that I will be able to apply as I move closer to my goal as an orthopedic surgeon.
Working at a small-town, community hospital was a different experience for me, and I am glad I participated in this rotation. I scrubbed into as many cases and was able to build relationships with my team. The MOI team made a lasting impression on my education and I will carry that forward as I progress towards a career in orthopedic surgery.
Thank you again for the amazing experience!
Jordan W. Fried, MS4
Sackler School of Medicine NYS/American Program
Getting to spend four weeks at Mammoth Lakes under the supervision of Dr. Brian Gilmer was an incredible experience and one I will not soon forget. A genuinely kind and compassionate physician, Dr. Gilmer's commitment was reflected not only in his patient interactions, but in his educating of medical students. He made every attempt to equate what he was doing to interactions orthopedic surgery would have with my specialty of interest. Dr. Gilmer consistently went above and beyond to educate me, taking time out of his busy schedule to provide additional teaching points. Learning about the new, minimally invasive, surgical technology he uses to stem the recovery period after surgeries was fascinating. Between the innovative surgical techniques, dedication to education and patients, and family-like collegiality, Dr. Gilmer and all of Mammoth Orthopedic Institute is truly a gem hidden in the Sierras. I would strongly recommend this rotation to any medical student for both the indisputably excellent health care as well as the abundant serene, picturesque mountainscapes on which you can explore. Thank you to everyone who made this experience so wonderful!
Best,
Nicholas Wesely, MS4
University of Nevada, Reno Alumnus, 2016
Neuroscience, B.S.
I feel very lucky to have had the opportunity to rotate at the Mammoth Orthopedic Institute and learn from Dr. Gilmer, Dr. Crall, Dr. Karch, Dr. Knecht, and Dr. Hackley. This was without a doubt my best rotation of medical school, and in my opinion is likely one of the best orthopedic surgery rotations for medical students in the country.
I was able to work in the sports medicine clinic, see orthopedic related ED consults, and assist in the vast majority of orthopedic cases that occurred over the course of my month rotation. In the OR, I saw a plethora of elective joints, sports, and foot and ankle cases—briefly including TKA, anterior and posterior primary and revision THA, ACL reconstruction, diagnostic knee, shoulder and ankle arthroscopy, posterolateral corner reconstruction, cartilage repair using the MACI system, and cartilage reconstruction using osteochondral allograft transplantation. I was also able to take call, where I had the chance to assist in the management of forearm fractures, clavicle fractures, distal humerus fractures, femoral neck fractures, intertrochanteric femur fractures, tibial plateau fractures, and compartment syndrome-- just to name a few cases.
Each of the attendings taught me multiple concepts in orthopedics that I will take with me throughout my career, were happy to walk me through cases, and answer my questions. I feel fortunate to have been able to learn from each of them. For a student interested in orthopedics, the case diversity is unparalleled, and without residents—I was able to have an exceptionally hands-on experience. Living in a mountain town like Mammoth for a month was also a phenomenal experience. Thank you for taking me on as a student!
Posterolateral Corner (PLC) Knee Injuries
Ryan Quinn
Touro University California
I am writing to thank you immensely for being an inspiration and a coach for me through the process. I was able to secure seat in PA school and am now six weeks in. The experience has been incredible and one of the best learning opportunities of my life. I just wanted to thank you sincerely for being there to lift me up at the times that you did. I would not be here right now without your help.
Thank you,
Matt Irons, PA student
I had the awesome opportunity to rotate at Mammoth Orthopedic Institute for a summer month as part of my fourth year rural elective at UNR Med.
I had the pleasure of working with Dr. Crall and Dr. Gilmer, both really cool surgeons. They are not only super smart and engaging, but also really down to earth people. As an aspiring physiatrist, I learned so much not only about the surgical side of orthopedics, but also the rehabilitation side. I appreciated that Dr. Crall and Dr. Gilmer would take the time to teach and correlate things to physical medicine and rehab. I got to see patients in all stages of the recovery process, and it was definitely enriching to see patients get better and get back to doing what they love to do. I also got to observe the team approach at MOI. In order to optimize outcomes, the patients not only follow-up continuously with the surgeons and PA's, but they also work with PT's and OT's. I had the opportunity to even work with some of the PT's and see the holistic approach to patient care.
Living in Mammoth for a summer month, I also got to take advantage of the beautiful outdoors the community offers. I got to do numerous hikes, paddleboard at Horseshoe Lake, mountain bike for the first time, watch the sunset at the natural hot springs, try various local beers (including Dr. Crall's own IPA!), and visit Yosemite. To top off the rotation, I had the opportunity to go to the Mammoth Sports Course, which was a 3-day series where healthcare professionals from different backgrounds come to give lectures and presentations about various orthopedic topics. One of the things that stood out to me were the presentations where surgeons would talk about complications. It really was a collaborative learning experience and a reminder that learning is a life-long process.
I would definitely recommend the MOI rotation, especially in the summer (although snowboarding at Mammoth would be pretty cool too!). If the opportunity arises, I could see myself coming back to this community, if not long-term, at least to visit and participate again in the Mammoth Sports Course.
Thank you for such an amazing experience, MOI!
Steven Kim, MS4, University of Nevada, School of Medicine
I want to thank you for having me rotate with you for a month in Mammoth! It was a highlight of my fourth year. You are so lucky to get to practice in such a beautiful place like Mammoth and to work in such a great office. I loved the dynamics in the office and operating room, everyone was so nice! Than you for taking the time to teach, I felt like I learned a lot.
Trochlear Dysplasia and Trochleoplasty
Maureen Choman, 4th year Medical Student, University of Nevada School of Medicine
My 4 week observership at Mammoth Hospital was one of the most rewarding and enriching experiences of my life. I learned so much, not just about orthopedics and sports medicine, but also the joys of living and working in a tight-knit community. I was very impressed with just how much access I was given to the hospital and the patients, allowing me to really get as much out of the rotation as I wanted. Dr. Gilmer, Dr. Crall, Dr. Karch and the rest of the team were more than happy to take time out of their busy schedules to explain things to me and continuously encouraged my active involvement. I was able to freely ask questions and assist when appropriate. If you are looking for a great opportunity to work with a fantastic team, see extremely interesting cases and visit one of the most beautiful places in the world, I would highly recommend a rotation with Mammoth Orthopedic Institute.
Mammoth is one of the most naturally beautiful places I have ever been. With world-class skiing, hiking, rock climbing and mountain biking, take the opportunity in your downtime to make the most of what this beautiful town has to offer.
Lateral Process Fractures of the Talus: The Snowboarder's Fracture
-Matthew Peters, BSc Med student, The University of Queensland Brisbane, Australia
In January 2018 I was given the opportunity to spend 8 days observing various orthopedic cases with Dr. Karch. Upon arriving in Mammoth, I was immediately welcomed by Dr. Karch and his team who were very accommodating and eager to answer any questions I had.
Mammoth Hospital was not what I was expecting by any means—it exceeded my expectations. Mammoth is not just a hospital, rather it is a welcoming community of health care providers who seek to care for the whole patient instead of simply repairing a broken bone or degenerative joint. Dr. Karch's philosophy of cura personalis, as taught by Georgetown, is apparent in his implementation of a multidisciplinary committee to review and acknowledge modifiable risk factors so that each patient has the best possible outcome. Through this, I learned how numerous factors contribute to a patient's post-surgical outcomes and the importance of evaluating these to promote a successful recovery. The multidisciplinary committee's objective of caring for the whole patient is not a philosophy emphasized by all physicians, thereby setting the Mammoth orthopedic team apart from others.
During the 9 days I spent in Mammoth, Dr. Karch challenged me to think critically, understand the processes involved in each operation, and to contribute to discussions where appropriate. I had the opportunity to meet patients before their operations, immediately after surgery, at follow-up several months later, and post-operatively in physical therapy. Seeing patients in all stages of the recovery process provided me with a more comprehensive understanding of post-surgical outcomes and the recovery timeline for total hip and knee arthroplasties.
The experiences and opportunities that came from my time at Mammoth Hospital are countless. I left with a greater understanding of all components involved in orthopedic surgery and a deepened passion for the field. Dr. Karch is an inspirational orthopedic surgeon who promotes positivity and asks for 100% from his team every time, creating a healthy and motivational environment for his team and patients.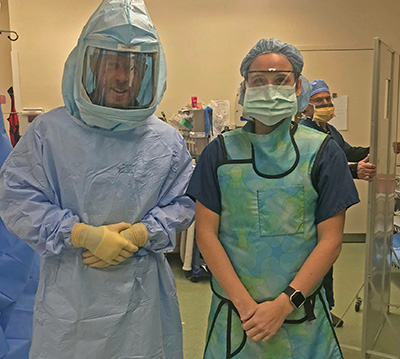 -Kayla Smith, BS, ATS Moravian University