Testimonials
Dr. Gilmer ,
You performed wrist surgery on my wife in July, she is doing very well. After reviewing the x-rays, the doctor remarked that the person who did the surgery "knew what he was doing". We have no doubt of this.
We are both very grateful for your efforts and want to than you as well as all of the staff.
Palm Desert, Ca
Thanks again for giving me the ability to continue playing my sports to my fullest potential. Y'all are amazing!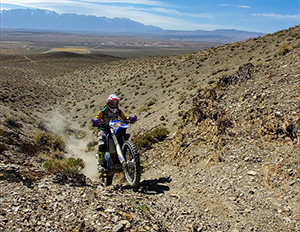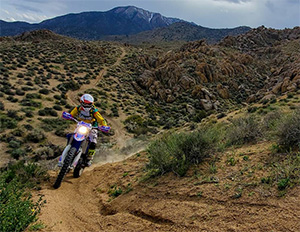 Bishop, CA
I was recently bought into emergency at Mammoth Hospital for a broken elbow after a skiing incident. I wanted to send an email to say a very sincere thank you to Dr. Karch, Dr. Gilmer, Jen & all the nurses and staff at Mammoth Hospital for the incredible care you gave me.
As an Australian on the other side of the world having emergency surgery you all made me feel incredibly welcome, safe, and cared for and I really appreciate it. Thank you to the doctors for the amazing work they did repairing my elbow and to the nurses for the constant care, dedication, and entertainment!
Australia
I just want to extend my gratitude for the care I received last week at Mammoth Orthopedics.
I had a skiing accident on Wed, Feb 2nd and was able to be seen the following day.
I would like to thank everyone who helped me - the scheduler, the Medical Assistant, Parker, the X-Ray technician, the guy who wheeled me for the CT imaging, the CT Technician, etc. I want to especially thank Britt Cogan, PA-C for her thorough exam, ordering of imaging, explanation of my injury, and advice regarding my follow up when I was back home in Carlsbad. Thank you Mammoth Hospital Medical Records dept. for being able to expedite the copies of my report and images so that I had them with me when I left Mammoth on Friday.
On Tues I had an appointment at CORE orthopaedic with Dr. Meineke and having the report and images in hand made it that much easier. Injuries are not fun, but it makes one feel much better when you've been given the professional care like I received from your office. Thank you! Much gratitude!
Carlsbad, CA
Dr. Knecht ,
I suffered a motorcycle accident last October that broke my fibula in two places and wrecked my left ankle. On 10/15/20, Dr. Knecht performed surgery to repair the damage. It's now a year later and I am happy to report that I am back doing all the things I love to do: hiking, backpacking, road and mountain biking, motorcycling, and because I have such confidence in my recovery, I purchased my annual ski pass to Mammoth Mountain Ski Area for this season.
Dr. Knecht, his staff, and the great PT Professionals at Mammoth Orthopedic Institute have my absolute confidence and undying gratitude for a job very well done.
Mammoth Lakes, CA
Dr. Hackley,
This month marks the 1 year anniversary of my surgery to repair my fully torn quadricep tendon. In late January 2021 during one of the large snow storms I was walking my neighbor in June Lake home after dinner to ensure he arrived safely. On my way back home, slipped and fell on the ice and had to drag myself 300 yards back into my house. Waited 24 hours until 395 opened so that we could drive to Mammoth Emergency Room for assessment and treatment. The ultrasound confirmed it was a complete tear and that immediate surgery was an offered options. Well, I knew that diagnosis did not need a 2nd opinion and had full trust that if anyone knew how to put back together a torn quad tendon to a knee the team at Mammoth Orthopedic and Dr. David Hackley would indeed.
While awaiting surgery I was melancholy to say the least, of what this injury and recovery would do to my active lifestyle and let alone winter ski season. Dr. Hackley assured me that if I don't mess up the surgical repair, let it fully heal, go through physical therapy and get it strong, that the knee would be better than before. I was like sure, whatever. Well after 6 months or physical therapy, then resuming gym workouts and running, kayaking over the summer, elevating my leg exercises to single leg isolation so I don't cheat the repaired knee; after nearly a year my repaired knee and quad are better than before! I was able to resume snow skiing over the holidays to enjoy the fresh powder the late 2021 season provided. I am still pressing forward with strengthening exercises but my active lifestyle is well back on track!
I am very thankful for the professionalism of the Mammoth Hospital Team, especially the Orthopedic Team and Dr. David Hackley. Thank you for all you do and you are dedicated professionals who are great at what you do. Keeping us all moving forward!
June Lake, CA
Dr. Knecht ,
I suffered a motorcycle accident last October that broke my fibula in two places and wrecked my left ankle. On 10/15/20, Dr. Knecht performed surgery to repair the damage. It's now a year later and I am happy to report that I am back doing all the things I love to do: hiking, backpacking, road and mountain biking, motorcycling, and because I have such confidence in my recovery, I purchased my annual ski pass to Mammoth Mountain Ski Area for this season.
Dr. Knecht, his staff, and the great PT Professionals at Mammoth Orthopedic Institute have my absolute confidence and undying gratitude for a job very well done.
Mammoth Lakes, CA
Dr Gilmer,
When other doctors in the area misdiagnosed or dismissed me, Dr. Gilmer at Mammoth Ortho did not! He's extremely knowledgeable and was very detailed answering my concerns and questions. He fixed my knee for good! Dr. Gilmer, the admin staff, the medical staff and the physical therapists at Mammoth Ortho are super intelligent, friendly, and made me feel genuinely cared for! They are truly the best!!! I've never been so satisfied with my medical care!
Bishop, CA
Dr Gilmer, I am now at 100% weight-bearing and getting around without a limp, no crutch, no cane after my severe tibial plateau fracture I am so happy all my progress. Thank you for your wonderful care, treatment, and skill set. I am very grateful and impressed.
Mammoth Lakes, CA
Dr. Gilmer, I got a filled bakers cyst that needed to get drained. Luckily, Dr. Gilmer had a break between 2 surgeries and came down to ER and drained it. I told Dr. Gilmer about the concerns with my knee and that my "home doctor" suggested to think about a knee replacement. Dr. Gilmer did a drawing of my condition and explained a solution that does not need a knee replacement for my issue. I just turned 52, and this news gave me a boost. I cannot wait to go back and get taken care of my issue by Dr. Gilmer. 100% professional, with life changing solutions.
I was referred to Dr. Gilmer by another doctor who was visiting for a conference. He asked why I was limping and I explained I was having knee surgery. He said If I had any surgeon other than Dr. Gilmer, cancel my previous one and become Dr. Gilmer's patient. That same day I made the arrangements to change. Dr. Gilmer is the best doctor by far, he is personable, compassionate and extremely knowledgeable. It was amazing to experience a doctor with such great confidence and humility. HE IS AMAZING! Before and after the surgery, he was very comforting and made certain I knew I could contact him any time if necessary. During my follow up appointment, he was pleased with my progress as I am. Honestly I could have stayed and chatted with him about anything, That's just how easy he is to speak with and don't let his youthful appearance fool you, I will refer him to anyone and everyone I come in contact with . What a great source of knowledge, skill and confidence.
Mammoth Lakes, CA
Dr. Karch,
What six weeks post total knee replacement looks like. For me. STOKED. It's been a long road to get here. I try not to get bogged down in the negative, but since I'm on the far side of this I'll come clean: I've been in a massive amount of pain for the last seven years. Snowboarding and life took their toll on this body, and walking and playing with my kids—much less doing all the other things I love—has been very difficult for the better part of a decade. But, after a subtalar fusion last year and a new knee six weeks ago, I am almost pain free for the first time in what feels like a lifetime. So pumped to get back to me! Thank you!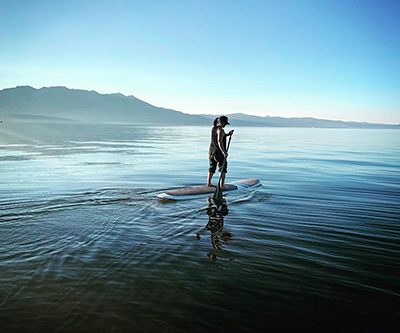 Dr. Gilmer, This summer you inserted three screws in my left femur after I fell off my bike. Now, 6 weeks on, I have long discarded my walker and am getting around with minimum discomfort. Also, the initial insurance concerns have been resolved. So I would just like to say how happy I am with the outcome of my surgery and how grateful I am to you and all the hospital staff for the care and attention I received.
Sacramento, CA
Dr. Karch,
I wanted to thank you and the team for the excellent experience I had five weeks ago with my hip replacement surgery. I had a knee replacement 2 years ago with all the process and lead times of a Silicon Valley hospital. I must admit I was a bit nervous when Dr. Harrell called and said "Dr. Karch will fit you in next week for surgery and by the way he specializes in computer navigated anterior hip replacement. Only 15% of hip replacements are done this way and he is very good at it."
So I'm driving 250 miles from home to have a hip replacement in a ski resort town. I had to look up the word anterior. I couldn't escape the image of a robotic arm with scalpel in hand connected to a computer in the basement and Dr. Karch was going to perform the surgery from Hawaii while on vacation. Then, as any great cousin worth his salt would do to another cousin, he told me that Dr. Karch wanted a few warm-up patients because of the Covid layoff which is why you are getting in next week. You gotta love family and doctor humor.
Twenty minutes later you called and the first thing you said was let's get you a great hip. Wonderful lead off message and since the usual doctor's office consultation wasn't and option, I very much appreciated the time you took on the phone to explain the specialty and benefits of the procedure. I knew I was getting a high-performance hip from an expert doctor, so I got in the car a week later and drove to Mammoth feeling very good. Thanks!
I'd like to recognize your admin and surgical teams which is a very important part of the patient experience. One week wasn't much time to battle insurance companies, test Covid, and complete all the prep to get me into surgery. No worries, Letti and Tina took over and delivered an executive concierge service. Be here at this time and we'll handle the rest.
When they rolled me in to the operating room, I looked at the mechanical contraption with ski boots and gave your two OR nurses my best you gotta be kidding me look. They read me well and the jokes began to fly. One of them grabbed the saddle horn between my legs and said "you know what this is for?" and I went under laughing. Great team Doc.
Two weeks after the surgery you called to check in and tell me you were leaving on a backpacking trip and wouldn't be able to communicate, "call Britt my PA if you need anything". High touch and personal! My doc shared his vacation plans and gave me a hot line to his number two. One of the most overlooked and impactful part of a great customer experience is what happens after the cash register rings. Especially in your line of business when the end product is a person.
The devil's in the details. You run a great ship Dr. Karch. Please pass my appreciation on to the team for a job well done.
- Placerville, CA
Dr. Gilmer, Thank you for the great work in repairing my shoulder. Everything seems like it is going well, I have limited pain that can be mitigated by Aleve, and I could not have asked for a more professional response to my accident. Thanks!
San Diego, CA
Dr. Knecht performed surgery on my ruptured Achilles in 2012. I have had zero problems since. He is a wonderful surgeon and a very kind man. I would recommend him without hesitation!
Flagstaff, AZ
Dr. Crall repaired my son's fractured patella resulting from a climbing accident caused by a rockfall. Given the nature of the injury, time was critical. He finished the surgery around 3:00 A.M., then took the time to call me. At 3:30 in the morning he took the time to patiently answer my questions, summarize the procedure and discuss follow up. It is hard to express our appreciation for the great medical care our son received at the hospital. Dr. Crall is amazing and so is the nursing staff.
Mammoth Lakes, CA
Dr. Gilmer, I really appreciate all of your help with my last couple surgeries. I felt like I was in great hands throughout the entire process. You and your teams provide top notch service. Thank you for getting me back on my bike.
Mammoth Lakes, CA
I am 5 weeks out of my left shoulder surgery today and I feel great! I just want to say thank you to your whole tear. I have spent a solid 30 years pushing my body to the extreme. Enduring countless high speed, "rag doll" wrecks, massive full body landing compressions and endless amounts of soft tissue damage. I had kind of blocked out all of the days, weeks and even months at times, I have spent laid up recovering over the years without visits to the Dr. for images and proper medical evaluation. I am blessed and very grateful to have such a knowledgeable staff of professionals as yourselves to help put me back together. I feel compelled to acknowledge your individual years of study and dedication to your fields of expertise. I have been in the presence of many Doctor's, physical therapist's and healer's, of all types over the years. You are all, in my eyes, second to none and true elite medical professionals! Thank you!
Mammoth Lakes, CA
I just wanted to take a moment to express my deep appreciation to you and your staff for the exceptional care I received at Mammoth Hospital. From the moment I arrived at the ER to discharge I felt very well cared for. As a retired executive of a large corporation, I know that this doesn't happen by accident. It takes a team effort across many areas of the hospital all pulling together. In particular I wanted to compliment my Surgeon, Dr. Knecht; and Nurses, Addie, Brooke and Mary. They were extremely caring, thoughtful, cheerful and attentive to safety. I have been skiing for nearly 50 years and this was the first time I've ever had a serious injury. It was an unusual condition known as Compartment syndrome. Dr. Knecht quickly diagnosed the issue and within a very short period of time I was in surgery and on my way to recovery. I was a 15 year ski patroller at Lake Tahoe and so I'm quite familiar with the challenges of the holiday season for medical professionals near ski resorts. I know it's hard to triage and juggle the influx of patients. The level of individualized care and personal attention I received is a real testament to how much your staff cares. I know in particular that Dr. Knecht had numerous surgeries over the past few days and still took the time to check in on me in the am and the evening. I can't thank you enough and I already feel much better. Happy holidays and best wishes for a great New Year.
Carlsbad, CA
Dr. Crall has the skills in the operating room and between the pipes on the rink. He fixed me up in September 2018 and did my son's ACL reconstruction in December of the same year. He is was back on the ice in July and is playing high school hockey this season. He is better...stronger...and faster. I told him he is not allowed to score on you but can get an assist or two. Thank you to all of the awesome staff in ortho and PT. You guys are the best.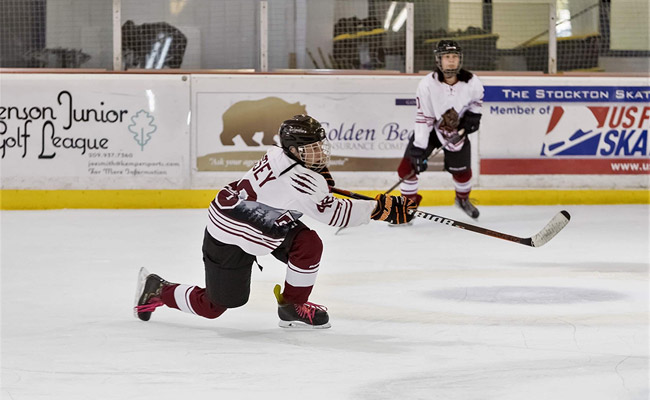 Mammoth Lakes, CA
Steve Klassen Patient Story
Dear Dr. Gilmer,
Our family is beyond grateful to have found such a wonderful orthopedic surgeon to care for our children. We never expected that 2 of our sons would injure their knees (torn ACL and PCL) just weeks apart and need surgery. Both you and your staff, especially Sarah Lang, ATC made the process so smooth to navigate. When we needed to reach out post surgery your response was always quick and reassuring. Both of our sons have healed well and are back to sports and doing what they love. Just 9 months after surgery, one (16 yo) was back on the football field, matched up against athletes twice his size, and going strong as ever. The other, (13 yo) is back at basketball and looking forward to his baseball season. Your expertise and dedication to your patients has made this possible and we cannot thank you enough!
Ridgecrest, CA
Dr. Gilmer,
Thank you so for fixing my broken leg! I can honestly say when it first happened I thought I'd never walk again. Thanks to the universe and my luckiest stars I got you as my surgeon and you were able to put me back together again! Thank you for your knowledge and talent. I am beyond grateful for you. Thank you for all the hard work you've put in! You truly are the best surgeon ever!
Bakersfield, CA
Dr. Gilmer,
Thank you so much for the care you took with the surgery on my left wrist.  The pre-surgery discussion of options was informative and made me comfortable in my choice to have the surgery.  The post surgery care was so generous of you. I have told people in San Diego about all that you did, as well as the staff at the hospital.  You all made a not fun experience, pretty amazing.
San Diego, CA
Thank you Dr. Gilmer! My ankle feels so much better than it did prior to surgery. It actually feels better than it has in years. Thanks for doing such a great job.
Coleville, CA
I wanted to say thank you for everything you did helping me from my injury back in 2018 (surgery, post-op) . I have never broken anything before, but am happy that when I did I was in such great hands at Mammoth Hospital. I am very happy to be back in Mammoth and getting the help I need. It's good to have someone tell me that there is a reason for the discomfort that I have been having this past summer with my injury. Now I can focus on recovery again and getting back to feeling 100%!
Mammoth Lakes, CA
Dr. Gilmer, I have wanted to stop by and say thank you, but I know your time is precious. Your recommendation not to operate after I (post surgery) fell on ice and broke my humorous was spot on. My range of motion might even blow you away (it does me) … almost nothing I can't do. THANK YOU.
Mammoth Lakes, CA
My husband had a bad fall while rock climbing in Mammoth, resulting in a severely broken leg that was in high risk of infection due to dirt and debris that got inside his leg during the fall. We wondered whether he would even walk again. Dr. Knecht impressively performed multiple complicated surgeries on my husband that would allow him to resume the activities he loves in the future. Not only are we greatly appreciative of his surgical acumen, but also because of the warmth and compassion he showed toward our family during that incredibly difficult time. He is an amazing doctor for whom we will always be so grateful.
Santa Barbara, CA
I have been up here since mid-June and injured a knee in mid-July. I saw Dr. Brian Gilmer who gave me the diagnosis and recommended physical therapy. I have been involved in health care most of my life. I know what "caring" is all about. I want to compliment Mammoth Orthopedic Institute on the culture that you folks have. Not only have I appreciated working with Dr. Gilmer, but Julie, Andrew, and Ellen in Physical Therapy, have also been a pleasure to work with. Thank you for not only the licensed team, but your support staff as well. They are also well above the norm.
I was training for the Ironman 70.3 Worlds Championships in September. Unfortunately, I won't be able to do the race now because of the injury and the missed training sessions. However, if it weren't for the injury I would have never had the great experience working with your team. So, I guess that it is true: "In every adversity there is the seed of an equal or greater benefit". There will always be another race.
San Diego, CA
Dr. Gilmer, thank you so much for fixing my knee. You will forever be on my "good Guy" list. I am so grateful my knee is healing so well.
Bishop, CA
I just wanted to thank you for doing my hamstring surgery. I think you are a diligent surgeon and I appreciate the time you spent with me answering questions. I also appreciate your caring attitude towards me as your patient. You definitely do a good job and you are very skilled. I hope you continue to enjoy surgery for many years. I look forward to swimming and hiking and skiing again and just getting back out there and walking! We have lived in Eastern Sierra for 17 years and really enjoy the outdoors and the majestic mountains!
Crowley, CA
Hi Dr. Gilmer,
I received your voice mail yesterday and want to thank you for sending me for the ultrasound on Monday. Kind of scary to know there is a blood clot in my leg but happy its being taken care of with blood thinners. Very glad we stayed the extra day in Bishop and headed for home on Tuesday. We arrived back home in Arizona yesterday and now can get used to a "new normal".
I want to Thank you so much for everything! One of the worst things happening while on vacation came with the wonderful care of everyone in Mammoth. Rescue team, hospital staff and especially you. Always made me feel comfortable and explained everything so I could understand. I can't thank you enough!
Buckeye, AZ
Good morning Dr Gilmer and team!
Thank you very much for the care & comfort you gave our son Ben yesterday! I appreciate you being time-sensitive to our situation and scheduling his surgery so promptly.
He's doing great this morning, and ready to make the drive to Torrance and recover at home. We just want you to know that we thank you and your surgical team for the excellent, top-notch service. We always felt we were in the best hands with y'all. Best Regards.
Torrance, CA
Dr. Knecht has treated my daughter's clubfoot since birth. He truly cares about her and her condition. He is understanding of our situation and helps us make decisions that are in her best interest. He helped us to understand her diagnosis, when we found out before her birth. He went above and beyond to get her evaluated and treated. He helped us to get other specialists on board as well. The compassion he showed us will never be forgotten. He may be busy, but the care that he shows for patients does make up for any wait. We wouldn't have chosen anyone else in AZ to treat our daughter.
-Flagstaff, AZ
My husband was suffering with a flare up of spinal stenosis and he had an apt with Dr. Knecht who is a foot and ankle specialist. When he heard of my husband's primary problem and our need to travel in one weeks' time across the country to our daughter's wedding, he saw a need and solution. We heard him on his cell phone asking his associate to fast-track him so that he would be able to attend the wedding. Thanks to Dr. Knecht, my husband walked his daughter down the aisle!
-Flagstaff, AZ
Dr. Knecht is an excellent and caring surgeon. He really did a stellar job on the complex surgery to fix my foot.
-Flagstaff, AZ
Best experience we had with a doctor in a long time. Great surgeon! Ankle tendons and ligaments repaired.
-Flagstaff, AZ
Dr. Knecht's competence speaks for itself. I believe he uses a magic wand instead of a scalpel! He is wonderful and I feel so lucky to have had him recommended to me.
-Flagstaff, AZ
Dr. Karch
"Just before the Holidays, I was the lucky recipient of a total hip replacement using the computer-assisted approach. Dr. Karch and his team were wonderful, both before and after the surgery. Their team approach helped me prepare for the surgery both mentally and physically.
The Physical Therapy group has also been fantastic. They have adjusted their sessions, and my homework, to incorporate stationary bike, Pilates reformer workouts, and my (constant) desire to gain more strength and more flexibility every day.
I chose to live in Mammoth in order to continue to pursue an active lifestyle. At just two months after surgery, I am able to start back with most of my activities. I've even been able to get back to cross-country skiing, although I'm only good for about 30 minutes on the training lanes at Tamarack! And, I can look forward to getting back to the Dance Studio soon.
My New Year's Resolution for 2019 is to do whatever I can to make sure that the computer used in my surgery, which was on loan at the time to Mammoth Hospital, can be purchased so that everyone who has a hip replacement can look forward to NO RESTRICTIONS in their "life after surgery" goals and activities!"
-Mammoth Lakes, CA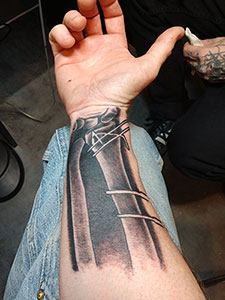 Dr. Karch,
Approximately 16-17 yrs ago Dr. Karch put my right hand back together. I fell off a roof from 20' & walked away with just a busted wrist, and partially separated AC joint. I continually think about how much I have to be thankful for from that accident
Well I've had no issues, and have used this right hand in my daily construction trade. I am for ever grateful for your skilled hand -by giving me the ability to continue to passionately play my guitar, have a successful construction business all while still living an extremely dominate physical life style.
I've kept that x ray on my wall these last 16 years looking at it like a work of art all the while playing my guitar and reminding my self how quickly our lives can change and lose the ability to do what we love. As I've gotten older I've gained more perspective/appreciation on what's important and what I place value on. We all use our hands in this life, and with the work of your hands, my right one still gets to do what I love.
Here's a picture of your work, it always looked like art to me- just a little constant reminder to cherish what we can do and what we get to do in this world.
Thank you so much!!
—Bend, OR
With our mission to provide excellent, compassionate health care services for our residents and visitors, it's a great honor to hear that we are making a difference in the lives of our patients.
We pride ourselves on improving the health of our community and visiting population, and with that pride we would like to share with you a few stories and testimonials from the folks we serve.
Dr. Gilmer,
Thank you from the bottom of my heart and from my left tibia and fibula, for all your amazing knowledge as a surgeon. Most importantly, thank you for you gentle touch, amazingly reassuring voice, and ability to make a rather grave, traumatic situation a much more manageable one. From the moment you entered my ER room I knew I was going to receive remarkable care. Your warm smile, strong handshake, and open desire to learn a bit about me and to allow me to ask questions of you, was truly a different approach from any other I have seen in most hospital settings. Thank you for putting me back together, answering ever so many questions, being available to my family, as well as to me and for helping me to put a smile on my face by bringing your absolutely beautiful daughter on rounds! You are a GEM of a human being! A surgeon like you, is RARE to find. I am filled with ever so much gratitude.
Dr. Gilmer,
Hi! I recently had my 12 week follow-up meeting with Dr. Yau here in Santa Barbara. Additional x-rays were taken and Dr. Yau had me perform a series of motions with my left arm and shoulder. He pronounced me as having made good improvement in both range of motion and reduction of pain. X-rays look good. Apparently, I am slightly ahead of the rehab curve. I do my routine of 10-12 rehab exercises twice every day. My focus, from my shoulder-experienced PT guy, is on reps and good form, not increasing resistance, weight, or pain. I seem to be responding well to this focus. At the current rate of my progress, I should be close to "normal" (at least from outward appearances) sometime in early June. Dr. Yau is cautiously optimistic that I will not need future surgical adjustments of the plate and screws. He is planning to review my progress in six week increments until the end of the summer, with one or two meetings in the fall thru December. And yes, I do have a ski trip planned to Mammoth next January on the anniversary of my injury.
Again, I say a great big THANK YOU! You and the team at Mammoth Hospital have done an outstanding job at piecing me back together. I am probably now at about 80% of my recovery thanks to you; on my way to as close to 100% as possible later this year (yes, the last few increments of improvement take as much time and work as the large chunks of improvement in the earlier stages).
Please give my best to your whole team there,
—Santa Barbara, CA
Dr. Gilmer,
A Day in the Life of Raising a Female Ski Racer... Yesterday our daughter came home joking about the noises coming out of mostly her left knee while squatting - apparently one of the coaches asked ... who's making that noise? Anastasia claimed it proudly. "That's not natural" was his response. We rang the Orthopedic Clinic first thing this morning, the doctor insisted I grab her out of school and bring her in, met with US Ski & Snowboard Team Dr. Brian Gilmer, who was AMAZING! He explained that her left patella wasn't tracking correctly and that she needed to adjust how she trains, from stance to focus in order to train the muscles to keep her patella's in place. He then mentioned that she has the same build as some of the Greatest Ski Racers, but she needs to make sure that she focuses on her core as well as her knees. He had the support staff tape the knee, knowing she was training this afternoon and finished with ... "We are here for you whenever you need us." The most important thing is that you are able to Ski. Wow! Thank You!
—Mammoth Lakes, Ca
Dr. Gilmer,
You are an amazing, ethical human. Courageous. Kudos to you for your superb care. The physician with whom I am following up was very complimentary of your surgical work. It has been remarkable to have such extensive injury, good work, and to recover so quickly. Thank you again.
—Tucson, AZ
Dr. Gilmer,
Thank you so much! You are awesome. Top of the line. I will only plan to get hurt in Mammoth from now on!
—Thousand Oaks, CA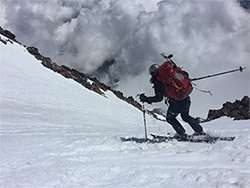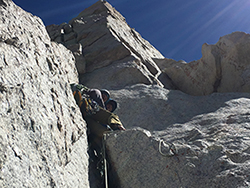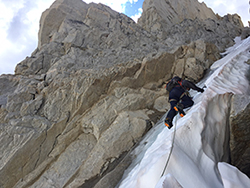 I just wanted to email you to let you know that my knee is working great. Since Surgery I have been skiing, climbing, kayaking, and mountain biking and hope to soon return my my previous fitness level. I attached a couple pictures of skiing in July and climbing in September! I really appreciate your care and willingness to respond to my emails! Thanks so much for being an awesome surgeon!
—Mammoth Lakes, CA
Hey Doc,
I went out to the mountain for the first time this weekend and I was able to do everything and rode heavy powder, no soreness, or pain. I wanted to thank you because I rode better than I had been before surgery and the hamstring is doing amazing! I am stretching a lot before I ride, and doing a bit of yoga.
Thanks doc!!!!
—Mammoth Lakes, CA
It has been 11 months since the incident but I am still very grateful of the care provided by the Mammoth team and Dr Gilmer – particularly being half the world away from home.
—Australia
Hi Dr Gilmer.
You took excellent care of me with my fracture.
I feel very blessed by all the great people who took care of me. Thanks again.
—Loma Linda, CA
Dr. Gilmer,
I would like to thank you and everyone else who took care of me. Everyone was so nice and I appreciate all the kindness.
Thank again for all your help
Oakland, CA
I just have to tell you that you are the best!
—June Lake, CA
I just wanted to thank you guys and your crew for all the extremely professional help and care. I feel so happy and lucky that I landed in such capable hands, and that people like you made the decision in life to help other people.
—Bishop, CA
Thank you so much Dr. Gilmer for all your help.
—Los Angeles, CA
Dear Dr. Gilmer. I just wanted to take a moment to thank you again for the excellent and compassionate care you gave to our son with his broken arm. I feel so fortunate that it was you who happened to be the ortho doc on call when we came into the emergency room with him that morning. I am convinced that the care he received from you allowed him to recover as quickly and completely as possible from his injury. Thank you for the kindness you showed him – and for your thoughtfulness in his care. It is refreshing to see a doctor who is so patient centered, conscientious, and not driven by ego. We will always think of you fondly and will always be grateful for your care.
—Taos, NM
We both want to thank you for the first rate job. Many more folks like my wife will benefit from your skilled hands.
—Tucson, AZ
I am sending you a thank you for all of your help with healing my injuries —you are a wonderful doctor.
—Fish Camp, CA
Hey Dr Gilmer,
Wanted to thank you again for taking such good care of me. This is pretty scary and I felt really comfortable and in very good hands.
—Beverly Hills CA
Former professional snowboarder following joint preservation surgery.
I went snowboarding! I attach a video from my first day back as a proof. My knee feels amazing, I got about 90% strength back in my left quad, compared to the right one (which is now made of steel) and I'm feeling alive again! I took half a year off my regular job to be able to really apply myself, did PT 3 x a week and on top of that spent every single night at the gym, but it was totally worth it. Still taking it easy, looking behind my shoulder all the time and avoiding the park but my confidence on a board is slowly coming back.
Thank you so much for putting me back together.
Have an amazing 2019.
-Europe
I just wanted to thank you again for your great skill repairing my left shoulder. I was finally able to get down to San Diego in August (9 months after surgery) and surfed with my son for a week. It was awesome! My shoulder did great, so much better than before surgery. I even bought my own board. I may never be an expert surfer but it sure is fun to try. I have been mountain biking since 6 months as well. Back to all activities 100%.
Thank you!!!
-Mammoth Lakes, CA
I live in Europe and have injured my knee (torn MCL) while snowboarding in Mammoth. After a consultation with Dr. Crall I decided to have the surgery done there and it was the best decision I could have made. I started PT the next day after surgery and already 6 days post-op I was able to drive down to LA and fly back home.
I wasn't allowed to put any weight on my leg for 4 weeks so I came back to Mammoth exactly 4 weeks after the surgery for a consultation with Dr. Crall and some physical therapy. My knee was doing well so I started putting weight on my leg right away and was walking without crutches within a week! Five weeks after the surgery I came back to Europe on my own two legs.
I am extremely grateful for having Dr.Crall fix my knee and the Mammoth Hospital team of physical therapists take care of my recovery. Today, at 6 weeks post-op I am already able to function normally and in a few short months I will be back snowboarding stronger than before.
—Europe
Hi Dr. Crall,
i wanted to give you a brief update on my status after you performed the amazing surgery on my knee a few years ago. everything is going very well. so well i wanted to give you what events i have been completing in the last years:
2013 – 1 sprint triathlon, 6 months post surgery
2014 – 1 century bike ride, 1 sprint triathlon, 1 marathon, summit mt. whitney
2015 – 2 century bike rides, 2 half marathons,5 sprint triathlons, 1 half iron man triathlon
2016 – 1 half marathon, 4 sprint triathlons, 2 half iron man triathlons
Thank you again for the great job you did on putting my knee back together.
Everyone is amazed at the transformation of my knee in the pre-surgery picture to what my knee looks like now!
I can't thank you enough for repairing my knee and giving me the opportunity to work out and compete again, in the events i love.
—Ventura, CA
I fell off a log, crossing a creek, resulting in left ankle dislocation with high Weber C fracture. I was helicoptered to Mammoth Lakes where you performed surgery that evening with 2 plates and 2 Tightrope devices. As a physical therapist, I've been aware of how questionable outcomes can be with this kind of injury. Well, I want to let you know: it has taken a year of hard work, but exactly a year after being airlifted off the trail, I completed a 3 day hike on the very rugged Westcoast Trail on Vancouver Island. I'm also able to run short distances again on our Florida flatland trails (4-5 miles and building).
My ankle is virtually pain free and has PERFECT stability with only minor limitations in ROM.
I can not thank you enough for the wonderful work you did on my ankle, putting me back together again. I know your surgery was a masterpiece!
Yesterday, I ran the Bear Bait 25K in Milton, Florida. It was the first trail race on my rebuilt ankle. Today I'm sore all over. Except for my ankle: it feels perfectly fine! As far as the plantar tear injury is concerned: apart from occasional popping when I first get up, it is not bothering me much anymore and I'm thinking about leaving it alone for now. Once again, I can not thank you enough for putting me back together again! I realize how lucky I am to have recovered from this injury, for the biggest part thanks to you! I have not yet given up on the idea of eventually running ultras again.
Thanks again!
Gulf Breeze, FL
Dear Dr. Crall,
Thank you so much for taking great care of me with my emergency surgery. I was so grateful you were available to put me back together. I have seen my Dr. in Utah a few times. He says it's looking good. The incision on the inside of my ankle is still pretty sore. I appreciate your expertise and kindness with my predicament. Everyone in the hospital was most helpful. The people who helped rescue me in the wilderness were incredible. I can't say thank you enough.
-Heber City, UT
Dr. Crall,
I just want to thank you again for repair of my left hip. All is going well and my recovery is progressing very well. I owe you a meal and drink when I return to your beautiful town.
-Houston, TX
Dr. Crall,
A big thanks for your concern and care in helping my leg issues!
-Mammoth Lakes, CA
Dr. Crall and Staff—
Two surgeries later, 57 metal staples, 10 scars, lots of PT, several visits to your office, a few tears, and all the other stuff I have no idea about.
Thanks for putting me back together!
-Seattle, WA
Dear Dr. Crall,
We just wanted to send a personal note of thanks for your care and consideration at our visit with you.
That shot in the shoulder is working just fine so far and hopefully will last for several months. I will be able to get back to my hoeing of our potato crop. My husband has asked to keep me off the dirt roads so I need to be busy.
Thank you again and we wish you every success in your practice. You are a good doctor. If you are ever in our area please stop in.
-Dyer, NV
Dear Dr. Crall,
I want to thank you for seeing me promptly and for the excellent medical care.
Your explanation and attention to detail put my mind at ease and enabled me to enjoy the weekend with my family.
Thank you!
-Claremont, CA
Dr. Crall,
Dr. Howell and the rest of the staff at Mammoth Hospital,
Thank you so much for the extraordinary care you provided me earlier this month. Every single day I was very impressed with the level of care I received by the nursing staff. While I have a long road ahead of me you guys got me off to a great start. Mammoth Mountain gave me a season pass for next season, so I will stop in when I'm up next.
-Auburn, CA
Thank you Tim Crall and Mike Karch,
I feel like a bird out of a cage... albeit with one slightly wounded wing. Since 2009, I've had a little gray cloud hanging around that had "right shoulder surgery" written all over it. Today, that cloud sailed into the sunset. I've avoided returning for consultation because I thought I knew the outcome. Tim Crall, you blew a hole in my assumption. Thank you.
If I heard correctly today, Mike Karch was instrumental in getting Tim Crall to come to Mammoth. I'm grateful to you, Mike Karch. Thank you.
Having been misdiagnosed with osteoporosis 2 years ago, I've been a tad mistrusting of our medical community. As a teacher, I know better. There are teachers worth their weight in gold and there are teachers who should not be allowed in a classroom. This happens in all professions, medical, legal, dentistry, etc. Today, because you thoroughly explained everything we need to know about my shoulder, you helped restore my trust in our medical community.
We so appreciate the time and information you gave us today. So many missing pieces about my shoulder fell into place. Thank you Dr. Crall.
-Mammoth Lakes, CA
See what our patients are saying about us in the videos below.
Dave Schacht
Brian Jones
Jim Gilbreath