Athletic Trainers and Ortho Techs
In 2013, realizing the need to protect and care for our young athletes, Mammoth Hospital began a partnership with Mammoth High School and the Mammoth Mountain Ski and Snowboard Teams through which the hospital donates the services of certified athletic trainers to better the health and safety of the athletes. Our athletic trainers are there to serve all of the high school sports as well as the Mammoth Mountain Teams by providing on-site emergency care – assessing, treating, and rehabilitating injuries, and providing education on topics such as proper warm up, injury prevention, nutrition, and concussions.
Our athletic trainers work in collaboration with Mammoth Hospital's physicians, nurses, EMT's, and physical therapists. With a dedicated team approach, we can and will reduce injury, prevent catastrophic outcomes and allow our young athletes to enjoy the academic and athletic benefits that come from sports participation. It is our goal to prevent as many injuries as we treat and to keep these athletes in the game and doing what they love.
What Do Athletic Trainers Do?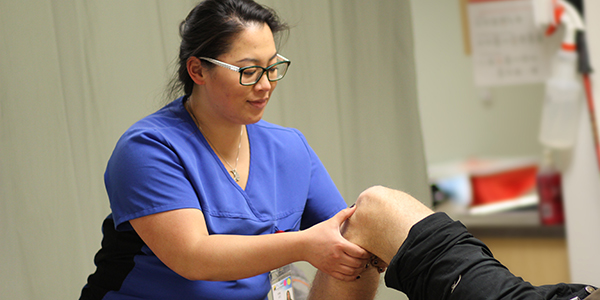 Prevention
Athletic trainers have extensive education in musculoskeletal anatomy and biomechanics. They are able to design programs to aid in the prevention of injury.
Clinical Evaluation & Assessment
Athletic trainers are proficient in identifying anatomical structures, understanding injury mechanisms, and utilizing special tests for injury evaluation. They are able to use this information collectively to assess injuries and then refer to specialists as needed.
Immediate & Emergency Care
Athletic trainers are trained in CPR, AED use, and first aid, including spine boarding, splinting, and wound care. Athletic trainers also are often responsible for outlining emergency action plans, ensuring the most expedient care possible for injured athletes.
Treatment & Rehabilitation
Athletic trainers are educated in creating and implementing rehabilitation programs to help keep people active and healthy. They are also able to utilize a variety of modalities, including manual therapies and different taping techniques, to improve patient care.
Organization and Professional Health & Well Being
Athletic trainers are subject to extensive continuing education requirements for recertification, including a requirement for evidence-based medicine.
A few more things you may not know about athletic trainers: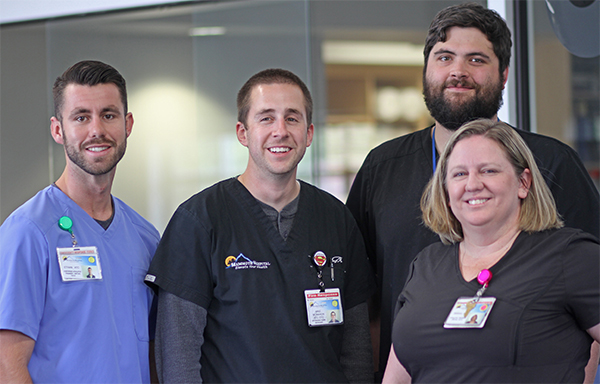 Athletic trainers must graduate from an accredited baccalaureate or master's program; 70% of athletic trainers hold master's degrees. Some athletic trainers continue on to pursue doctorates.
Athletic trainers are employed in a variety of settings including professional and collegiate athletics, secondary schools, hospitals, military, and industrial/corporate offices. Here at Mammoth Hospital, athletic trainers are employed in the role of clinic assistant/physician extender. Additionally, athletic training services are provided both to Mammoth High School and to the Mammoth Mountain Ski & Snowboard Teams.
Athletic trainers, despite the title, are able to provide medical services to a wide variety of people – not just athletes. Athletic trainers also do not train people like personal trainers do. In other countries, a similar profession would be an athletic therapist or a physiotherapist.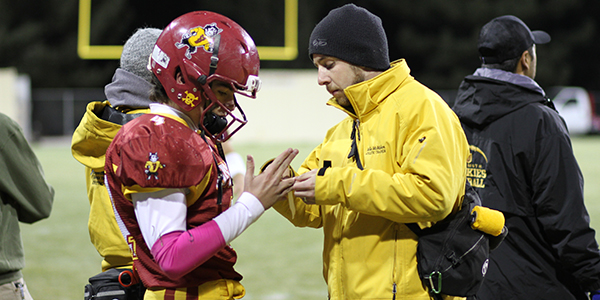 Mammoth High School Receives National Athletic Trainers' Association Safe Sports School Award by helping to keep young athletes safe.
Mammoth High School is the recipient of the National Athletic Trainers' Association Safe Sports School award for its athletics programs. The award champions safety and recognizes secondary schools that provide safe environments for student athletes. The award reinforces the importance of providing the best level of care, injury prevention and treatment.
"Mammoth High School is honored to receive this 1st Team recognition from NATA, and we remain committed to keeping our student athletes safe during physical education classes, team practices and games so they can accomplish their own goals of great competition, winning records, fair sportsmanship and good health," said Lois Klein, Superintendent of Mammoth Unified School District. "Our goal is to lead our athletics program to the highest safety standards for our players."
Mammoth High School is one of only 26 1st Team Safe Sports Schools in California. Mike McMahon, Athletic Trainer at Mammoth Hospital, is very pleased to be recognized in the program's fourth year. "This award is the culmination of four years of Mammoth Hospital and Mammoth Unified School District working together to achieve the highest standards of sports safety," says McMahon. "Working with Chris Powell, Lois Klein, Heidi Thompson, and all of the coaches throughout this process has been a pleasure. At Mammoth Hospital, we have a motto of "Patients First" and it's clear that MUSD follows a "Students First" philosophy in everything they do. Throughout this process the focus has always been on what is best for the student's safety, long-term health, and success. My hope is that this encourages sport participation in order to increase the health of our entire student body."
In order to achieve Safe Sport School status, as Mammoth High School did, athletic programs must do the following:
Create a positive athletic health care administrative system
Provide or coordinate pre-participation physical examinations
Promote safe and appropriate practice and competition facilities
Plan for selection, fit function and proper maintenance of athletic equipment
Provide a permanent, appropriately equipped area to evaluate and treat injured athletes
Develop injury and illness prevention strategies, including protocols for environmental conditions
Provide or facilitate injury intervention
Create and rehearse a venue-specific Emergency Action Plan
Provide or facilitate psychosocial consultation and nutritional counseling/education
Be sure athletes and parents are educated of the potential benefits and risks in sports as well as their responsibilities
Community contributions have allowed our athletic trainer program to continue to provide the best possible care for our student athletes, ensuring a safer athletic environment for our kids to perform at their very best. Thank you!
Meet Our Staff