Marianne Cuttic, DPM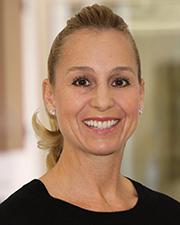 Specialties
Podiatric Medicine and Surgery
Education
Residency Training : Medical College of PA, Elkins Park 1992-1994
University of PA, Sports Medicine 1992-1994
Medical Degree : Temple University School of Podiatric Medicine, 1988-1992 – Doctor of Podiatric Medicine (DPM)
Undergraduate Degree : Bachelor of Science, Moravian College, Bethlehem PA 1984-1988
Professional Memberships
American Podiatric Medical Association
California Podiatric Medical Association
Los Angeles County Medical Association
Honors and Awards
Louis M. Newman Award for Surgical Excellence
Sports Medicine Award for Highest level of excellence in Sports Medicine
Biography
Marianne Cuttic, DPM has been practicing in Southern California for the last 20 years. She is on staff at Memorial Hospital of Gardena and several well recognized outpatient surgery centers in the South Bay. She joined the Mammoth Hospital Surgical staff in 2012 and was initially in private practice here in Mammoth until 2014 when she joined Mammoth Orthopedics. Her areas of expertise in the foot and ankle include surgery, diabetes and sports medicine.
Dr. Cuttic grew up in rural Pennsylvania and majored in Biology at Moravian College in Bethlehem, PA. She obtained her Podiatric Medical Degree at Temple University School of Podiatric Medicine and completed a surgical residency at the Medical College of PA. She also spent time at U Penn working with high level athletes to further her knowledge of sports medicine and served on both the Boston and New York Marathon medical teams.
Dr. Cuttic moved to Southern California in 1994 after her residency and joined a group practice for 5 years before opening her own private practice in Redondo Beach in 2000. Dr. Cuttic first came to Mammoth to check out the snow conditions after skiing mainly on the east coast. She remembers how great the powder was compared to the ice on the east coast. She regularly came up during the winters to bring her 4 children to learn to ski/snowboard and to enjoy the Sierras. Four years ago she realized there was a great need for a foot and ankle specialist here in Mammoth. She shared office space with Dr. Maria King whom she credits with introducing her to all of Mammoth's finest. She moved to the Mammoth Orthopedic Clinic two and half years ago. It has always been her ambition to return to the small town atmosphere in which she grew up.
Dr. Cuttic is an avid dance enthusiast and has been involved in numerous performances of the Nutcracker and other ballets since she was 5 years old. She has also been a long time runner and fitness enthusiast. She feels Mammoth has become her home away from home and is fortunate to be a part of such an amazing community. In her spare time she enjoys travel, interior design/decorating and her Bunko friends. Her greatest achievements are her four children ages 19, 18, 14 and 11. "Every day is a privilege to share with my children as I watch them grow and develop. I am blessed to have been given such a gift."