Research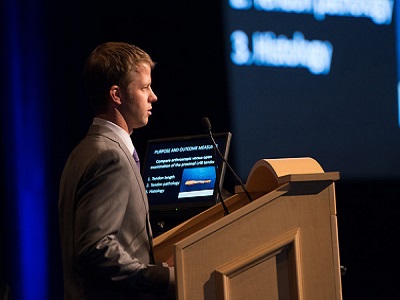 Research and continuing improvement are a critical part of the Mammoth Orthopedic Institute. Our academic interests include generating primary research, participating in multi-center studies, innovating new techniques and technologies, participating in the peer-review process and providing ongoing educational opportunities.
Primary Research
Our areas of interest include anatomic, biomechanical, and clinical studies related to knee and shoulder arthroscopy and total joint arthroplasty and reconstruction. Some recent publications include:
Gilmer BB, Crall TS, DeLong J, Takanori K, Mackay G, Jani
Biomechanical Analysis of Anatomic Repair With Internal Bracing for Treatment of Femoral-Sided Avulsion Injuries of the Medial Knee. Orthopedics 2016;39(3):1-6
Parisky X, Gilmer BB, Harkins J, Karch M
Periarticular Liposomal Bupivicaine Injection Decreases Length of Stay, Pain Scores, and Opioid Usage After Total Knee Arthroplasty When Compared to Femoral Nerve Block. Progress in Orthopedic Science (under review)
Arthroscopic Techniques
Crall TS, Gilmer BB
Anatomic All-Inside Anterior Cruciate Ligament Reconstruction Using Quadriceps Tendon Autograft. Arthroscopy Techniques 2015;x(x):e1-5
Gilmer BB, Crall TS, Guttmann D.
Knotless Arthroscopic Repair of Subscapularis Tendon Tears Using Looped Suture. Arthroscopy Techniques. 2015;x(x):e1-e5
Lubowitz J, Mackay G, Gilmer BB
Knee medial collateral ligament and posteromedial corner anatomic repair with internal bracing. Arthroscopy Techniques. 2014;3(4):e505-508
Editorial Commentaries
Gilmer BB. Editorial Commentary: Does Size Matter: Drill Holes in Subpectoral Biceps Tenodesis?
Gilmer BB. Editorial Commentary : When You Have a Hammer, Everything Looks Like a Nail—Tenodesis of a Normal Biceps Tendon at the Time of Arthroscopic Rotator Cuff Repair Should Be Avoided.
Gilmer BB. Editorial Commentary: Goldilocks and the Three Grafts: Managing Tendon Harvest and Graft Length Problems in Autograft Anterior Cruciate Ligament Reconstruction.
Gilmer BB. CORR Insights® : Outcome Selection and Methodological Quality of Major and Minor Shoulder Surgery Studies: A Scoping Review. Clinical Orthopaedics and Related Research®. 2019 Jan 7.
Emerging Technologies
Dr. Karch has been actively designing and developing a novel technology for improving the precision and accuracy of one of the most common skills in Orthopedics: drilling bone. The SMART drill was recently awarded the best technical exhibit award at the AAOS Annual meeting in Orlando. Find more information about SMART drill at www.smartmeddevices.com
National Meetings Presentations
MOI surgeons have been invited to speak at regional and national meetings related to trauma and disaster response, research, arthroscopy, and sports medicine. MOI research, technology, and surgeons have been featured at:
AANA annual meeting Boston, MA 2016
Western Trauma Association Mammoth Lakes, 2016
AAOS annual meeting Orlando, FL 2016
Surgical Outcomes System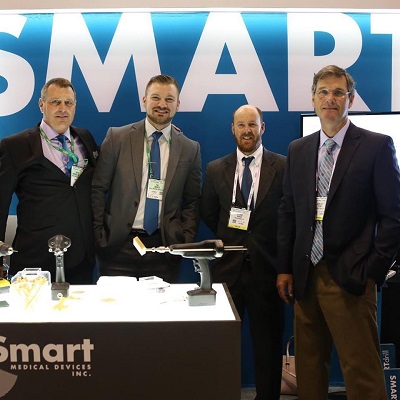 Tracking patient outcomes is important to us. We utilize the Surgical Outcomes System (SOS) to track patient related outcomes and continually evaluate and improve our patient care.
Outcomes data is the most common means for evaluating the effectiveness of an intervention. For example, a questionnaire containing a series of questions about pain and function is completed by the patient prior to surgery and then at intervals during the recovery period to see how fast and to what degree the patient improves after surgery. The questions in the questionnaire have been previously studied to be appropriate markers of the variable being evaluated, for example, strength, motion, pain, etc.
The SOS system is an online registry that facilitates obtaining and compiling patient outcomes data. Patient participation is optional. The surveys can be completed on tablets in the office or may be emailed to patients. All data is de-identified and tied to individuals only by a number. The data is then collected and stored online where it can be filtered and sorted to answer clinical questions. More information about the SOS system can be found at: surgicaloutcomesystem.com
Over time, this cumulative data allows MOI to help our surgeons evaluate our techniques and ensure that we are providing the highest quality of care. For individual patients it allows us to better answer your questions about expected recovery and return to function for a given procedure.
Those interested medical students, residents, and fellows are actively encouraged to seek research opportunities. Here at Mammoth Orthopedic Institute, we offer on site and remote opportunities to conduct research and create high quality peer reviewed publications. Please contact us if you are interested. It is not a requirement to be enrolled in a clinical rotation to participate in research projects.