Christopher Urband, MD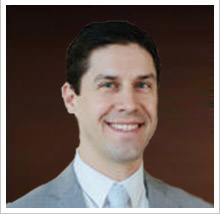 Member of Mammoth Hospital Team Since 2018
Specialties
Orthopedic Surgery.
Areas of Interest
Dr. Urband specializes in orthopedic surgery, particularly shoulder, hip and knee.
Service Line
Orthopedics.
Board Certification
American Board of Orthopaedic Surgery, ABOS board eligible.
Education
Undergraduate Mechanical engineering: Rensselaer Polytechnic Institute Postbaccalaureate.
Premedical education: Columbia University in the city of New York.
Med school: Stony Brook School of Medicine.
Residency: University at Buffalo.
Fellowship: TRIA Orthopaedic Center.
Biography
Dr. Christopher Urband is the newest member of Torrey Pines Orthopaedic Medical Group. He is fellowship trained in orthopaedic sports medicine and shoulder surgery, with a special interest in treatment of shoulder, hip, and knee injuries.
Dr. Urband completed fellowship training at TRIA Orthopaedic Center, in Bloomington, MN where he helped care for multiple professional and university sports teams, including Minnesota Twins professional baseball, Minnesota Wild professional hockey, University of Minnesota sports (including Football, Basketball, Hockey), Gustavus Adolphus University sports, Minnesota Magicians minor league hockey, X-Games Minneapolis, high school football, and multiple other tournaments and events. An avid skier, surfer, backpacker, cyclist, and triathlete himself, he enjoys treating the athletic population. He also trained extensively in shoulder reconstruction, including anatomic and reverse total shoulder arthroplasty. He has written multiple book chapters on upper extremity conditions.