Dr. Crall Testimonials
Dr. Crall repaired my son's fractured patella resulting from a climbing accident caused by a rockfall. Given the nature of the injury, time was critical. He finished the surgery around 3:00 A.M., then took the time to call me. At 3:30 in the morning he took the time to patiently answer my questions, summarize the procedure and discuss follow up. It is hard to express our appreciation for the great medical care our son received at the hospital. Dr. Crall is amazing and so is the nursing staff.
Mammoth Lakes, CA
Dr. Crall has the skills in the operating room and between the pipes on the rink. He fixed me up in September 2018 and did my son's ACL reconstruction in December of the same year. He is was back on the ice in July and is playing high school hockey this season. He is better...stronger...and faster. I told him he is not allowed to score on you but can get an assist or two. Thank you to all of the awesome staff in ortho and PT. You guys are the best.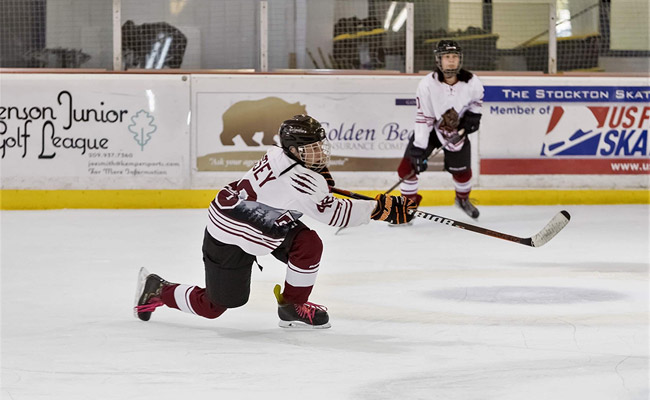 -Mammoth Lakes, CA
Former professional snowboarder following joint preservation surgery.
I went snowboarding! I attach a video from my first day back as a proof. My knee feels amazing, I got about 90% strength back in my left quad, compared to the right one (which is now made of steel) and I'm feeling alive again! I took half a year off my regular job to be able to really apply myself, did PT 3 x a week and on top of that spent every single night at the gym, but it was totally worth it. Still taking it easy, looking behind my shoulder all the time and avoiding the park but my confidence on a board is slowly coming back.
Thank you so much for putting me back together.
Have an amazing 2019.
-Europe
I just wanted to thank you again for your great skill repairing my left shoulder. I was finally able to get down to San Diego in August (9 months after surgery) and surfed with my son for a week. It was awesome! My shoulder did great, so much better than before surgery. I even bought my own board. I may never be an expert surfer but it sure is fun to try. I have been mountain biking since 6 months as well. Back to all activities 100%.
Thank you!!!
-Mammoth Lakes, CA
I live in Europe and have injured my knee (torn MCL) while snowboarding in Mammoth. After a consultation with Dr. Crall I decided to have the surgery done there and it was the best decision I could have made. I started PT the next day after surgery and already 6 days post-op I was able to drive down to LA and fly back home.
I wasn't allowed to put any weight on my leg for 4 weeks so I came back to Mammoth exactly 4 weeks after the surgery for a consultation with Dr. Crall and some physical therapy. My knee was doing well so I started putting weight on my leg right away and was walking without crutches within a week! Five weeks after the surgery I came back to Europe on my own two legs.
I am extremely grateful for having Dr.Crall fix my knee and the Mammoth Hospital team of physical therapists take care of my recovery. Today, at 6 weeks post-op I am already able to function normally and in a few short months I will be back snowboarding stronger than before.
—Europe
Hi Dr. Crall,
i wanted to give you a brief update on my status after you performed the amazing surgery on my knee a few years ago. everything is going very well. so well i wanted to give you what events i have been completing in the last years:
2013 – 1 sprint triathlon, 6 months post surgery
2014 – 1 century bike ride, 1 sprint triathlon, 1 marathon, summit mt. whitney
2015 – 2 century bike rides, 2 half marathons,5 sprint triathlons, 1 half iron man triathlon
2016 – 1 half marathon, 4 sprint triathlons, 2 half iron man triathlons
Thank you again for the great job you did on putting my knee back together.
Everyone is amazed at the transformation of my knee in the pre-surgery picture to what my knee looks like now!
I can't thank you enough for repairing my knee and giving me the opportunity to work out and compete again, in the events i love.
—Ventura, CA
I fell off a log, crossing a creek, resulting in left ankle dislocation with high Weber C fracture. I was helicoptered to Mammoth Lakes where you performed surgery that evening with 2 plates and 2 Tightrope devices. As a physical therapist, I've been aware of how questionable outcomes can be with this kind of injury. Well, I want to let you know: it has taken a year of hard work, but exactly a year after being airlifted off the trail, I completed a 3 day hike on the very rugged Westcoast Trail on Vancouver Island. I'm also able to run short distances again on our Florida flatland trails (4-5 miles and building).
My ankle is virtually pain free and has PERFECT stability with only minor limitations in ROM.
I can not thank you enough for the wonderful work you did on my ankle, putting me back together again. I know your surgery was a masterpiece!
Yesterday, I ran the Bear Bait 25K in Milton, Florida. It was the first trail race on my rebuilt ankle. Today I'm sore all over. Except for my ankle: it feels perfectly fine! As far as the plantar tear injury is concerned: apart from occasional popping when I first get up, it is not bothering me much anymore and I'm thinking about leaving it alone for now. Once again, I can not thank you enough for putting me back together again! I realize how lucky I am to have recovered from this injury, for the biggest part thanks to you! I have not yet given up on the idea of eventually running ultras again.
Thanks again!
Gulf Breeze, FL
Dear Dr. Crall,
Thank you so much for taking great care of me with my emergency surgery. I was so grateful you were available to put me back together. I have seen my Dr. in Utah a few times. He says it's looking good. The incision on the inside of my ankle is still pretty sore. I appreciate your expertise and kindness with my predicament. Everyone in the hospital was most helpful. The people who helped rescue me in the wilderness were incredible. I can't say thank you enough.
-Heber City, UT
Dr. Crall,
I just want to thank you again for repair of my left hip. All is going well and my recovery is progressing very well. I owe you a meal and drink when I return to your beautiful town.
-Houston, TX
Dr. Crall,
A big thanks for your concern and care in helping my leg issues!
-Mammoth Lakes, CA
Dr. Crall and Staff—
Two surgeries later, 57 metal staples, 10 scars, lots of PT, several visits to your office, a few tears, and all the other stuff I have no idea about.
Thanks for putting me back together!
-Seattle, WA
Dear Dr. Crall,
We just wanted to send a personal note of thanks for your care and consideration at our visit with you.
That shot in the shoulder is working just fine so far and hopefully will last for several months. I will be able to get back to my hoeing of our potato crop. My husband has asked to keep me off the dirt roads so I need to be busy.
Thank you again and we wish you every success in your practice. You are a good doctor. If you are ever in our area please stop in.
-Dyer, NV
Dear Dr. Crall,
I want to thank you for seeing me promptly and for the excellent medical care.
Your explanation and attention to detail put my mind at ease and enabled me to enjoy the weekend with my family.
Thank you!
-Claremont, CA
Dr. Crall,
Dr. Howell and the rest of the staff at Mammoth Hospital,
Thank you so much for the extraordinary care you provided me earlier this month. Every single day I was very impressed with the level of care I received by the nursing staff. While I have a long road ahead of me you guys got me off to a great start. Mammoth Mountain gave me a season pass for next season, so I will stop in when I'm up next.
-Auburn, CA
Thank you Tim Crall and Mike Karch,
I feel like a bird out of a cage... albeit with one slightly wounded wing. Since 2009, I've had a little gray cloud hanging around that had "right shoulder surgery" written all over it. Today, that cloud sailed into the sunset. I've avoided returning for consultation because I thought I knew the outcome. Tim Crall, you blew a hole in my assumption. Thank you.
If I heard correctly today, Mike Karch was instrumental in getting Tim Crall to come to Mammoth. I'm grateful to you, Mike Karch. Thank you.
Having been misdiagnosed with osteoporosis 2 years ago, I've been a tad mistrusting of our medical community. As a teacher, I know better. There are teachers worth their weight in gold and there are teachers who should not be allowed in a classroom. This happens in all professions, medical, legal, dentistry, etc. Today, because you thoroughly explained everything we need to know about my shoulder, you helped restore my trust in our medical community.
We so appreciate the time and information you gave us today. So many missing pieces about my shoulder fell into place. Thank you Dr. Crall.
-Mammoth Lakes, CA