Dr Gilmer Testimonials
Dr. Gilmer,
A Day in the Life of Raising a Female Ski Racer... Yesterday our daughter came home joking about the noises coming out of mostly her left knee while squatting - apparently one of the coaches asked ... who's making that noise? Anastasia claimed it proudly. "That's not natural" was his response. We rang the Orthopedic Clinic first thing this morning, the doctor insisted I grab her out of school and bring her in, met with US Ski & Snowboard Team Dr. Brian Gilmer, who was AMAZING! He explained that her left patella wasn't tracking correctly and that she needed to adjust how she trains, from stance to focus in order to train the muscles to keep her patella's in place. He then mentioned that she has the same build as some of the Greatest Ski Racers, but she needs to make sure that she focuses on her core as well as her knees. He had the support staff tape the knee, knowing she was training this afternoon and finished with ... "We are here for you whenever you need us." The most important thing is that you are able to Ski. Wow! Thank You!
—Mammoth Lakes, Ca
Dr. Gilmer,
You are an amazing, ethical human. Courageous. Kudos to you for your superb care. The physician with whom I am following up was very complimentary of your surgical work. It has been remarkable to have such extensive injury, good work, and to recover so quickly. Thank you again.
—Tucson, AZ
Dr. Gilmer,
Thank you so much! You are awesome. Top of the line. I will only plan to get hurt in Mammoth from now on!
—Thousand Oaks, CA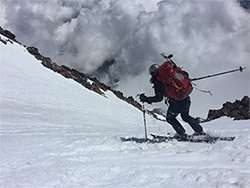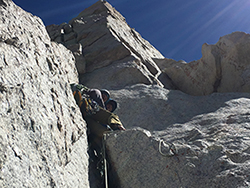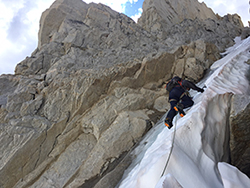 I just wanted to email you to let you know that my knee is working great. Since Surgery I have been skiing, climbing, kayaking, and mountain biking and hope to soon return my my previous fitness level. I attached a couple pictures of skiing in July and climbing in September! I really appreciate your care and willingness to respond to my emails! Thanks so much for being an awesome surgeon!
—Mammoth Lakes, CA
Hey Doc,
I went out to the mountain for the first time this weekend and I was able to do everything and rode heavy powder, no soreness, or pain. I wanted to thank you because I rode better than I had been before surgery and the hamstring is doing amazing! I am stretching a lot before I ride, and doing a bit of yoga.
Thanks doc!!!!
—Mammoth Lakes, CA
It has been 11 months since the incident but I am still very grateful of the care provided by the Mammoth team and Dr Gilmer – particularly being half the world away from home.
—Australia
Hi Dr Gilmer.
You took excellent care of me with my fracture.
I feel very blessed by all the great people who took care of me. Thanks again.
—Loma Linda, CA
Dr. Gilmer,
I would like to thank you and everyone else who took care of me. Everyone was so nice and I appreciate all the kindness.
Thank again for all your help
Oakland, CA
I just have to tell you that you are the best!
—June Lake, CA
I just wanted to thank you guys and your crew for all the extremely professional help and care. I feel so happy and lucky that I landed in such capable hands, and that people like you made the decision in life to help other people.
—Bishop, CA
Thank you so much Dr. Gilmer for all your help.
—Los Angeles, CA
Dear Dr. Gilmer. I just wanted to take a moment to thank you again for the excellent and compassionate care you gave to our son with his broken arm. I feel so fortunate that it was you who happened to be the ortho doc on call when we came into the emergency room with him that morning. I am convinced that the care he received from you allowed him to recover as quickly and completely as possible from his injury. Thank you for the kindness you showed him – and for your thoughtfulness in his care. It is refreshing to see a doctor who is so patient centered, conscientious, and not driven by ego. We will always think of you fondly and will always be grateful for your care.
—Taos, NM
We both want to thank you for the first rate job. Many more folks like my wife will benefit from your skilled hands.
—Tucson, AZ
I am sending you a thank you for all of your help with healing my injuries —you are a wonderful doctor.
—Fish Camp, CA
Hey Dr Gilmer,
Wanted to thank you again for taking such good care of me. This is pretty scary and I felt really comfortable and in very good hands.
—Beverly Hills CA