Michael Karch, MD Testimonials
Steve Klassen Patient Story
Dr. Karch
"Just before the Holidays, I was the lucky recipient of a total hip replacement using the computer-assisted approach. Dr. Karch and his team were wonderful, both before and after the surgery. Their team approach helped me prepare for the surgery both mentally and physically.
The Physical Therapy group has also been fantastic. They have adjusted their sessions, and my homework, to incorporate stationary bike, Pilates reformer workouts, and my (constant) desire to gain more strength and more flexibility every day.
I chose to live in Mammoth in order to continue to pursue an active lifestyle. At just two months after surgery, I am able to start back with most of my activities. I've even been able to get back to cross-country skiing, although I'm only good for about 30 minutes on the training lanes at Tamarack! And, I can look forward to getting back to the Dance Studio soon.
My New Year's Resolution for 2019 is to do whatever I can to make sure that the computer used in my surgery, which was on loan at the time to Mammoth Hospital, can be purchased so that everyone who has a hip replacement can look forward to NO RESTRICTIONS in their "life after surgery" goals and activities!"
-Mammoth Lakes, CA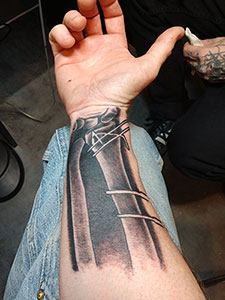 Dr. Karch,
Approximately 16-17 yrs ago Dr. Karch put my right hand back together. I fell off a roof from 20' & walked away with just a busted wrist, and partially separated AC joint. I continually think about how much I have to be thankful for from that accident
Well I've had no issues, and have used this right hand in my daily construction trade. I am for ever grateful for your skilled hand -by giving me the ability to continue to passionately play my guitar, have a successful construction business all while still living an extremely dominate physical life style.
I've kept that x ray on my wall these last 16 years looking at it like a work of art all the while playing my guitar and reminding my self how quickly our lives can change and lose the ability to do what we love. As I've gotten older I've gained more perspective/appreciation on what's important and what I place value on. We all use our hands in this life, and with the work of your hands, my right one still gets to do what I love.
Here's a picture of your work, it always looked like art to me- just a little constant reminder to cherish what we can do and what we get to do in this world.
Thank you so much!!
—Bend, OR