Michael Karch, MD Testimonials
Steve Klassen Patient Story
I was recently bought into emergency at Mammoth Hospital for a broken elbow after a skiing incident. I wanted to send an email to say a very sincere thank you to Dr. Karch, Dr. Gilmer, Jen & all the nurses and staff at Mammoth Hospital for the incredible care you gave me.
As an Australian on the other side of the world having emergency surgery you all made me feel incredibly welcome, safe, and cared for and I really appreciate it. Thank you to the doctors for the amazing work they did repairing my elbow and to the nurses for the constant care, dedication, and entertainment!
Australia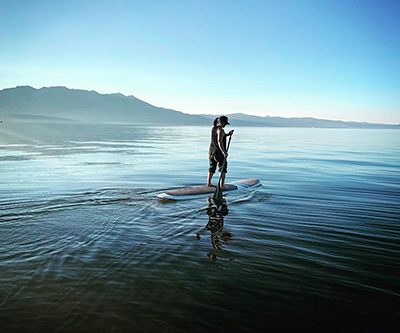 Dr. Karch,
What six weeks post total knee replacement looks like. For me. STOKED. It's been a long road to get here. I try not to get bogged down in the negative, but since I'm on the far side of this I'll come clean: I've been in a massive amount of pain for the last seven years. Snowboarding and life took their toll on this body, and walking and playing with my kids—much less doing all the other things I love—has been very difficult for the better part of a decade. But, after a subtalar fusion last year and a new knee six weeks ago, I am almost pain free for the first time in what feels like a lifetime. So pumped to get back to me! Thank you!
Dr. Karch,
I wanted to thank you and the team for the excellent experience I had five weeks ago with my hip replacement surgery. I had a knee replacement 2 years ago with all the process and lead times of a Silicon Valley hospital. I must admit I was a bit nervous when Dr. Harrell called and said "Dr. Karch will fit you in next week for surgery and by the way he specializes in computer navigated anterior hip replacement. Only 15% of hip replacements are done this way and he is very good at it."
So I'm driving 250 miles from home to have a hip replacement in a ski resort town. I had to look up the word anterior. I couldn't escape the image of a robotic arm with scalpel in hand connected to a computer in the basement and Dr. Karch was going to perform the surgery from Hawaii while on vacation. Then, as any great cousin worth his salt would do to another cousin, he told me that Dr. Karch wanted a few warm-up patients because of the Covid layoff which is why you are getting in next week. You gotta love family and doctor humor.
Twenty minutes later you called and the first thing you said was let's get you a great hip. Wonderful lead off message and since the usual doctor's office consultation wasn't and option, I very much appreciated the time you took on the phone to explain the specialty and benefits of the procedure. I knew I was getting a high-performance hip from an expert doctor, so I got in the car a week later and drove to Mammoth feeling very good. Thanks!
I'd like to recognize your admin and surgical teams which is a very important part of the patient experience. One week wasn't much time to battle insurance companies, test Covid, and complete all the prep to get me into surgery. No worries, Letti and Tina took over and delivered an executive concierge service. Be here at this time and we'll handle the rest.
When they rolled me in to the operating room, I looked at the mechanical contraption with ski boots and gave your two OR nurses my best you gotta be kidding me look. They read me well and the jokes began to fly. One of them grabbed the saddle horn between my legs and said "you know what this is for?" and I went under laughing. Great team Doc.
Two weeks after the surgery you called to check in and tell me you were leaving on a backpacking trip and wouldn't be able to communicate, "call Britt my PA if you need anything". High touch and personal! My doc shared his vacation plans and gave me a hot line to his number two. One of the most overlooked and impactful part of a great customer experience is what happens after the cash register rings. Especially in your line of business when the end product is a person.
The devil's in the details. You run a great ship Dr. Karch. Please pass my appreciation on to the team for a job well done.
- Placerville, CA
Dr. Karch
"Just before the Holidays, I was the lucky recipient of a total hip replacement using the computer-assisted approach. Dr. Karch and his team were wonderful, both before and after the surgery. Their team approach helped me prepare for the surgery both mentally and physically.
The Physical Therapy group has also been fantastic. They have adjusted their sessions, and my homework, to incorporate stationary bike, Pilates reformer workouts, and my (constant) desire to gain more strength and more flexibility every day.
I chose to live in Mammoth in order to continue to pursue an active lifestyle. At just two months after surgery, I am able to start back with most of my activities. I've even been able to get back to cross-country skiing, although I'm only good for about 30 minutes on the training lanes at Tamarack! And, I can look forward to getting back to the Dance Studio soon.
My New Year's Resolution for 2019 is to do whatever I can to make sure that the computer used in my surgery, which was on loan at the time to Mammoth Hospital, can be purchased so that everyone who has a hip replacement can look forward to NO RESTRICTIONS in their "life after surgery" goals and activities!"
-Mammoth Lakes, CA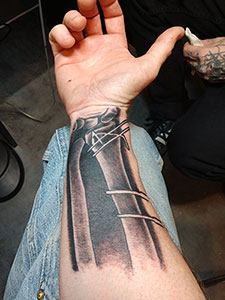 Dr. Karch,
Approximately 16-17 yrs ago Dr. Karch put my right hand back together. I fell off a roof from 20' & walked away with just a busted wrist, and partially separated AC joint. I continually think about how much I have to be thankful for from that accident
Well I've had no issues, and have used this right hand in my daily construction trade. I am for ever grateful for your skilled hand -by giving me the ability to continue to passionately play my guitar, have a successful construction business all while still living an extremely dominate physical life style.
I've kept that x ray on my wall these last 16 years looking at it like a work of art all the while playing my guitar and reminding my self how quickly our lives can change and lose the ability to do what we love. As I've gotten older I've gained more perspective/appreciation on what's important and what I place value on. We all use our hands in this life, and with the work of your hands, my right one still gets to do what I love.
Here's a picture of your work, it always looked like art to me- just a little constant reminder to cherish what we can do and what we get to do in this world.
Thank you so much!!
—Bend, OR