Fellow Rotations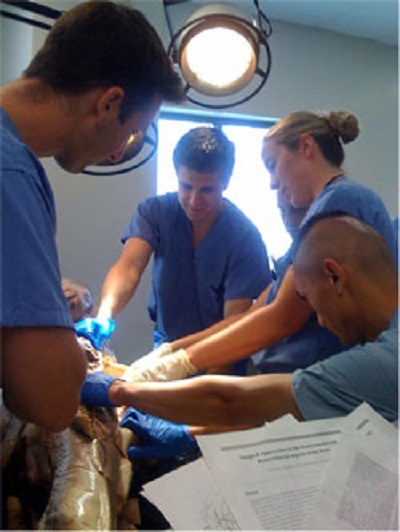 Currently, Mammoth Orthopedic Institute hosts clinical fellows from:
The Naval Hospital Camp Pendleton Primary Care Sports Medicine Fellowship
The San Diego Sports Medicine Primary Care Sports Medicine Fellowship
Fellows outside these established relationships may contact the MOI office at [javascript protected email address] or 760-924-4084 for more information and to make arrangements with your specific accrediting institution.
Scheduling
While 2 or 4 week rotations are the most common, we can tailor the duration and timing of your rotation to meet your scheduling needs.
Sample Clinical Schedule
Monday - Dr. Knecht, Operating Room
Tuesday - Dr. Gilmer Operating Room Experience
Wednesday - Dr. Gilmer, Sports Medicine Clinic or Dr. Crall Operating Room Experience
Thursday - Dr. Knecht, Sports Medicine Clinic or Dr. Crall, Operating Room
Friday - Dr. Crall, Sports Medicine Clinic vs Dr. Clark Sports Medicine Clinic
Fellows obtain emergency department exposure to orthopedic trauma through call with the attending surgeons or at their discretion as dictated by their specific goals and objectives.
Out of Office Experience
Mammoth Lakes is a year round destination for outdoor sporting events and a multitude of team and event coverage opportunities exist based on the time of year. Some of these may include:
Spring
Mammoth Freeski Grand Prix
USSA Spring Training Camps
Summer
Mammoth Motocross
Mammoth Half Marathon
US Mountain Bike Championships
June Lake Triathalon
Tioga Pass Run
Fall
Mammoth Cycling Grand Fondo
Mammoth High School Football
Winter
Mammoth Mountain Ski Patrol Training
June Mountain Ski Patrol Training
Mammoth Mountain Ski and Snowboard Team Training and Camps
Goals and Objectives
Fellows receive an intensive immersion experience which spans general orthopedics with an emphasis on arthroscopy, sports medicine, and trauma. Fellows can tailor the experience to emphasize features commonly encountered among our active population such as ski versus snowboard trauma, freeski versus alpine injury patterns, overuse injuries in endurance athletes, effects of high altitude training etc. Fellows are invited to take call with the attending physicians at their discretion or as dictated by their clinical requirements for exposure to emergency department management of musculoskeletal trauma.
A general overview of goals and objectives is provided here:
The pathology, pathophysiology, diagnosis and treatment of acute and chronic sports medicine and orthopedic injuries, including soft tissue, bone and nerve injury.
The pathology and pathophysiology of acute and chronic medical illness in the active population.
The psychological aspects of exercise, performance and injury.
Preventive medicine and the athletic preparticipation exam, including the ethical and medico-legal aspects.
Physiology and pathophysiology of hydration, nutrition and the use of pharmacologic agents, including performance enhancing and mood-altering substances of athletes.
How to diagnose and treat common acute and chronic sports medicine and orthopedic injuries.
Normal anatomy, physiology and biomechanics of the musculoskeletal and neurologic system.
Obtain accurate histories regarding orthopedic and sports medicine diseases.
Perform appropriate physical examinations on patients.
Care for athletes with acute and chronic medical illnesses.
Perform preparticipation examinations, including counseling and rehabilitation for return to play and sports exclusion.
Perform a wellness assessment and counsel patients regarding hydration, nutrition, performance enhancing substances and rehabilitation.
Act as team physician for various sports teams and mass participation events, including managing acute and life-threatening injuries and illnesses.
Continue managing primary care patients, including continuity clinics and precepting residents and students.
Perform procedures appropriate for the diagnosis and management of musculoskeletal disorders.
Describe the diagnosis and treatment plans for diagnosed conditions to patients and their families.
Counsel patients regarding their injury and incorporate return to play and prevention strategies.
Accurately convey medical information to colleagues, specialists, athletic trainers and coaches, verbally and written.
Accurately document patient encounters.
Detailed study can be pursued in regards to rehabilitation after complex knee reconstruction for ligamentous or chondral insufficiency and/or complex shoulder reconstruction for rotator cuff pathology and glenohumeral instability.
The recommended texts below provide a basic introduction to core principles in general orthopedics and sports medicine.
Netter's Concise Orthopaedic Anatomy by Jon C. Thompson
Handbook of Fractures by Joseph Zuckerman and Kenneth Koval
Brukner's and Khan's Clinical Sports Medicine
Copies of these texts are available for fellows to borrow from Mammoth Orthopedic Institute for use during your clinical rotation.
Additional online resources specific to surgical procedures are available at:
Sports Medicine -- www.arthrex.com
Orthopedic Trauma – www.aosurgery.org
Electronic access is available to relevant journals during the clinical rotation:
Arthroscopy: The Journal of Arthroscopy and Related Research
American Journal of Sports Medicine
Journal of Bone and Joint Surgery: American
Temporary housing in Mammoth Lakes can be difficult to secure at times. For assistance in securing housing during your rotation please contact us at [javascript protected email address] or 760-924-4084.