In The News
August, 2017
Dr. Gilmer published an editorial in Arthroscopy Journal regarding treatment of biceps tendon disease.
August 10-12, 2017
Mammoth Orthopedic Institute hosted the Second Annual Mammoth Sports Course, which was a great success once again.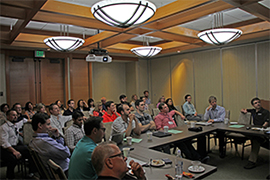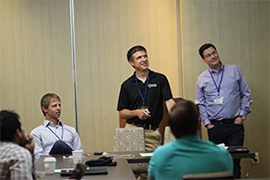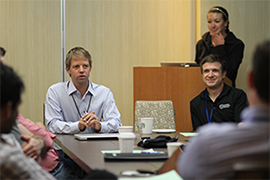 July, 2017
Wanted: Disaster Relief Orthopaedists
Dr. Michael Karch is calling for volunteers to aid in global disaster relief. Please see this press release from AAOS for more information.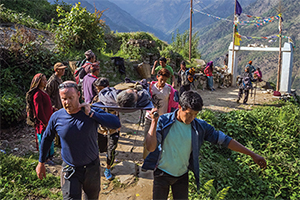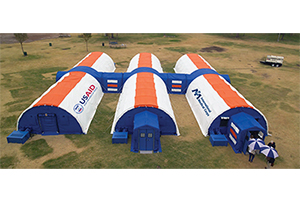 June, 2017
Dr. Gilmer publishes an Editorial Review for Arthroscopy Journal offering expert opinion on treatment of long head of the biceps tendon pathology.

May, 2017
Dr. Gilmer with his mentor Dr. Guttmann of Taos Orthopedic Institute publish an invited review on the diagnosis of biceps tendon problems in the new journal of the International Society of Arthroscopy, Knee Surgery, and Sports Medicine (ISAKOS). In it, they outline their approach to this challenging problem based on the latest medical evidence.

March, 2017
Dr. Karch publishes "Multi-Disciplinary Joint Replacement Team at Mammoth Hospital: Cura Personalis - Treating the Whole Patient" article.
Click here for more information
March 15, 2017
Dr. Gilmer publishes new technique for primary repair of the posterolateral corner (PLC) of the knee in Arthroscopy Techinques Journal. This technique uses smaller implants and preserves the patient's own tissue allowing for faster recovery.
March, 2017
The Mammoth Sports Course registration is now available!
Click here for more information.
December 15, 2016
Dr. Gilmer met with the Rookie Ski Patrol Class from Mammoth Mountain to review and discuss traumatic injuries on the mountain and in the backcountry setting.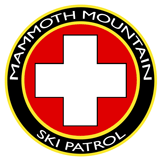 December, 2016
Dr. Crall in Ruka, Finland with the US Freestyle Moguls team for pre-world cup training camp. Keaton McCargo snags 3rd place for her first career world cup podium!
December, 2016
Dr. Crall attends MESS course for US Ski Team Physicians in Beaver Creek, CO. On-hill training with mock trauma scenarios for life-threatening ski and snowboarding accidents.
MOI hosts annual Synthes DePuy Trauma Refresher at the Westin Monache Resort
November 12, 2016
Dr. Crall and Dr. Gilmer hosted a trauma refresher course covering operative treatment of distal humerus fractures, proximal humerus fractures, and tibial shaft fractures.
Members of the Mammoth Hospital operating room staff, and Mammoth Hospital Orthopedic SPORT clinic participated in this hands on dry lab activity.
Resources and findings for the course were generously donated by Depuy/Synthes.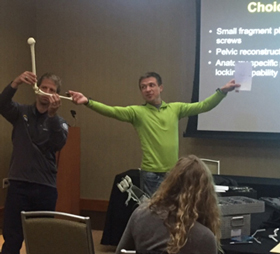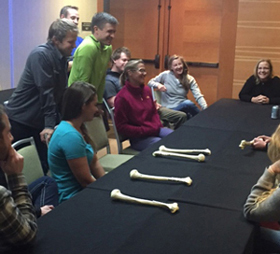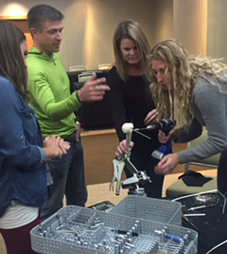 Dr. Gilmer invited to join the Editorial Board for Arthroscopy Journal
November 10, 2016
In consideration of his scientific reviewing work over the last 3 years Dr. Gilmer has been invited to join the Editorial Board for Arthroscopy: The Journal of Arthroscopic and Related Surgery.

Dr. Karch to present at Grand Rounds for Georgetown University
October 25, 2016
Dr. Karch will be presenting Grand Rounds at Georgetown University in Washington DC. His lecture titled, "Mass Casualty, Mass Shootings, and Terrorist Inflicted Injury Patterns for the Civilian Orthopaedic Surgeon" will draw on his experience gained in the September 11th Terrorist Attacks, as well as his relief efforts in the Phillipines and Nepal in the wake of natural disasters.
Dr. Crall presents at International Disaster & Austere Medicine Conference
September 21-24, 2016
Mammoth Orthopedic Institute presented for International Disaster & Austere Medicine Conference hosted by Mammoth Medical Missions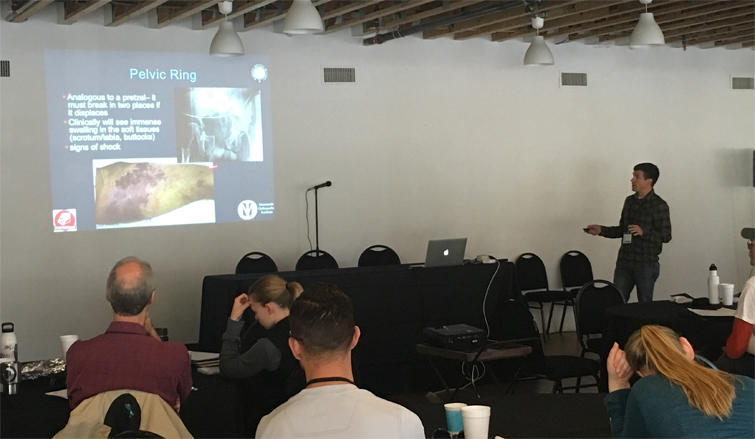 Dr. Gilmer teaches at University of Washington Arthroscopy Boot Camp
September 22, 2016
Dr. Gilmer was invited to instruct two days of lecture and lab at the University of Washington's Resident Arthroscopy Boot Camp in Portland,Oregon.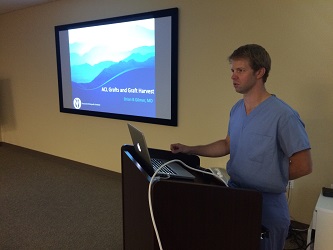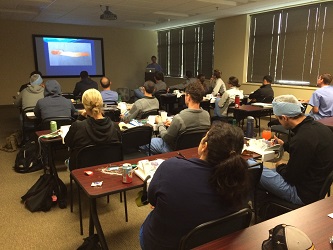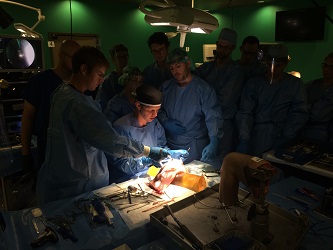 MOI Team Publishes Study on Improved Pain Relief After Total Knee Replacement
September 21, 2016
Drs. Parisky, Harkins, Karch and Gilmer's article titled as "Periarticular Liposomal Bupivicaine Injection Decreases Length of Stay, Pain Scores, and Opioid Usage After Total Knee Arthroplasty When Compared to Femoral Nerve Block" was accepted for publication in the Journal Progress in Orthopedic Science. The study confirmed the effectiveness of a new postoperative pain management regimen used at Mammoth Hospital to shorten length of hospital stay and decrease the need for narcotic pain medications after knee replacement surgery. Research associate Sarah Lang of the MOI Bishop team was fundamental in the success of the manuscript's publication.
Mammoth Orthopedic Institute Hosts First Annual Sports Medicine Course
August 25-27, 2016
Mammoth Orthopedic Institute in partnership with Mammoth Hospital recently hosted its first annual course and lecture series on the practice of Orthopedics developed by orthopedic surgeons, Michael Karch, Timothy Crall, and Brian Gilmer.
This "meeting of the minds" for all things orthopedics included participants from all over the country - doctors, nurses, physician assistants, physical therapists, and athletic trainers.
The goal of the Mammoth Sports Course wasn't merely to rehash the same PowerPoint presentations given by experts at various meetings, but to critically evaluate the indications, techniques, successes, and failures involved in the treatment of complex problems in which no clear evidence-based guidelines exist.
Reviews are in and have been overwhelmingly positive by all attendees, so you can count on our Mammoth Orthopedic Institute surgeons to build on this course in the years to come! Great work team!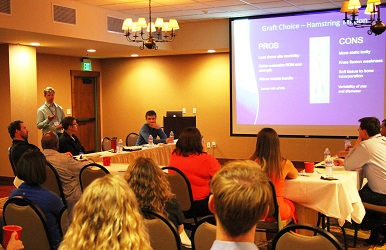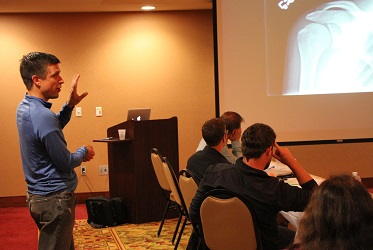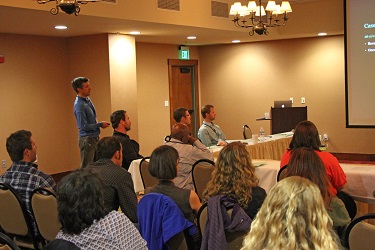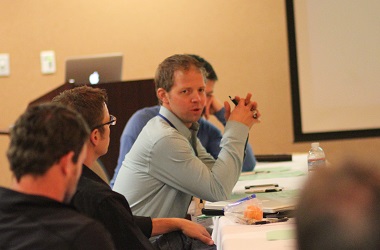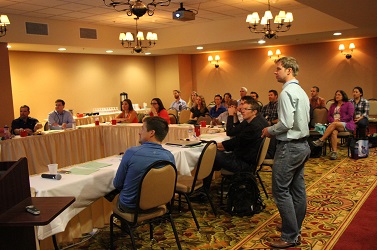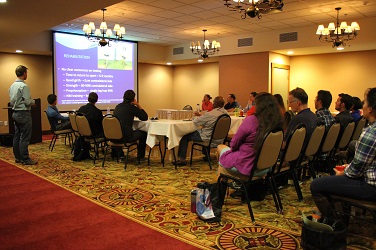 Bigger is not always better
Aug 30, 2016
Doctors usually think bigger hospitals offer better surgery. Turns out, we're wrong.
During surgical training I got a call from my mother with an unusually focused question. She had just returned from the doctor's office where she was told she needed to have her gallbladder removed. Her question to me was simple enough — "Where should I have my surgery?"
Like nearly every health care provider, I'm quite used to having family members ask for medical advice. Usually it is in other fields I do not practice, and I often guide them back to the doctor they're already seeing.
Read More
Mammoth Medical Missions Remote and Austere Medicine Course
The Mammoth Medical Missions annual Remote and Austere Medicine Course which was founded by Dr. Karch of Mammoth Orthopedic Institute will be held September 21-24 in Mammoth Lakes. For more information, please see the attached information sheet or visit the Mammoth Medical Missions website at www.mammothmedicalmissions.org