The Mammoth Sports Course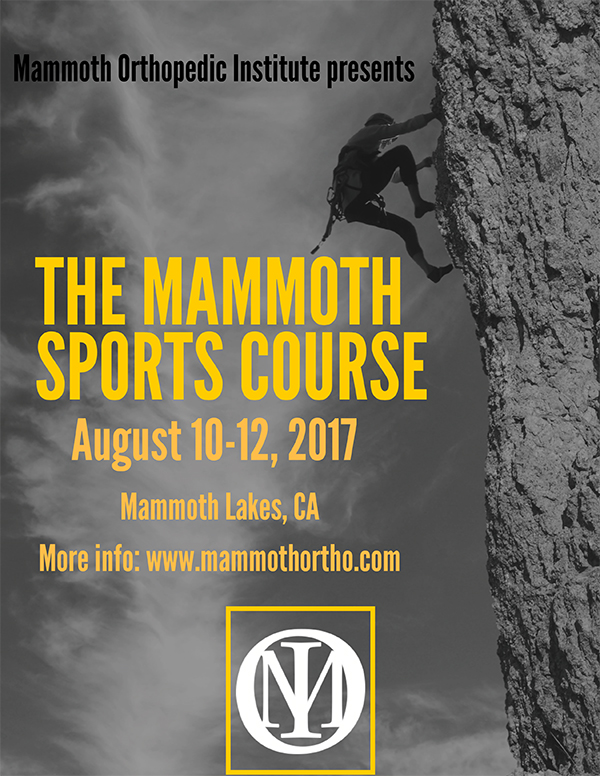 August 10-12, 2017
Location: The Westin, Mammoth Lakes, CA
SCHEDULE OF EVENTS
Thursday, August 10th, 2017
Arrive – Alaska Airlines Flight 2194 departs 5:15 PM – 6:29 PM
Los Angeles (LAX) – Mammoth Lakes (MMH)
6:30-9:30 p.m. Dinner
Location TBD
Friday, August 11th, 2017
Morning – Activities
Mountain Bike - Mammoth Mountain Bike Park

Bike Park Passes and Rentals available for free to those interested

Road Ride - Mammoth Lakes Basin

Family friendly
Electric Bike Rentals available at a discount from Wave Rave

Trail Run – Mammoth Rock Trail
Yoga – Mountain Sol Yoga
Massage – Simply Massage in the Village at Mammoth
Afternoon – Didactics
12:00 Shoulder Didactics –Advanced Techniques in Shoulder ArthroscopyTimothy Crall, MD Mammoth Lakes, CA
1:00 Shoulder Didactics - Rehab Considerations
Jen McMahon, PT, DPT, GCS – Mammoth Lakes, CA
1:30 Break
1:45 Case Presentations – Shoulder Reconstruction
Moderator: Timothy Crall, MD & Jen McMahon, PT, DPT, GCS
3:45 Break
4:00 Case Presentations and Panel Discussion
Moderator: Timothy Crall, MD
5:30 Adjourn
Dinner and Nightlife: At your discretion
Sushi Rei – Sushi / Japanese
Campo – Rustic Italian
The Smokeyard – Steaks and Bar-B-Que
El Gomez – Mexican
Whitebark – Modern Cuisine / Sushi
The Side Door – Wine / Fondue
Toomey's – Ecclectic Fare
Lakanuki – Hawaiian / Pub Fare
Saturday, August 12th, 2017
6:30 a.m. Breakfast
7:00 Knee Didactics - Dr. William Montgomery, MD
San Francisco Orthopaedic Surgeons, San Francisco, CA
Beyond Meniscectomy: The Future of Meniscal Surgery in the 21st Century
8:00 Case Presentations and Panel Discussion-Meniscal Injury, Repair, Deficiency, and
Reconstruction with Rehab Considerations
Moderators: Brian Gilmer, MD, Chris Matteson, MPT, OCS, ATC, & Blake Rossi, DPT, OCS, ATC
Guest Panelist: Dr. William Montgomery, MD
10:00 Break
10:15 Knee Didactics - ACL Repair to Revision Revision Revision Reconstruction
Brian Gilmer, MD
10:45 Rehab Considerations
Sara Chavez, MPT, CSCS
11:15 Case Presentations and Panel Discussion- ACL and Revision ACL Cases
Moderator: Brian Gilmer, MD & Sara Chavez, MPT, CSCS
1:15 Lunch
1:30 Complications - When All Else Fails
Awarding of the Weggers Traveling Trophy
3:30 Closing Remarks and Evaluations
Afternoon - Activities
Mountain Bike - Mammoth Mountain Bike Park
Bike Park Passes and Rentals available for free to those interested
Contact Brian Gilmer for more details
Road Ride - Mammoth Lakes Basin
Family friendly
Electric Bike Rentals available at a discount from Wave Rave
Trail Run - Mammoth Rock Trail
Contact Brian Gilmer for details
Yoga - Mountain Sol Yoga
Massage - Simply Massage in the Village at Mammoth
7:00 Family and Friends Group Dinner
The East Side Bake Shop
For those who must depart early:
Depart
7:04 PM – 8:30 PM
Mammoth Lakes (MMH) – Los Angeles (LAX)
Alaska Airlines flight 2195
Sunday, August 13th, 2017
Depart
7:04 PM – 8:30 PM
Mammoth Lakes (MMH) – Los Angeles (LAX)
Alaska Airlines flight 2195
LODGING
Preferred lodging options are:
The Village Lodge, at the Village at Mammoth http://www.thevillagelodgemammoth.com
And
The Westin Monache Resort http://www.westinmammoth.com
FAMILY AND KIDS
Spouses, significant others, and families are welcome. Offerings are available for alternative activities during didactics.
TRAVEL
Travel- Travel to Mammoth is either via a daily flight from LAX direct to Mammoth or via Reno (3 hours by car), or Las Vegas (5 hours by car).
More information - http://www.visitmammoth.com/
Guest Speaker: Dr. William Montgomery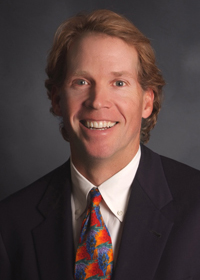 William Montgomery earned his Bachelor of Arts degree at Colgate University and his M.D. at the State University of New York Downstate Medical Center. He went on to complete his surgical internship at Beth Israel Medical Center and his residency in Orthopaedic Surgery at the Hospital for Special Surgery in New York City in 1991. He then completed a Sports Medicine Fellowship at The Kerlan Jobe Clinic in Los Angeles.
Dr. Montgomery has been the team physician for the San Francisco Giants, Spiders, Seals and the San Jose Lasers. Currently, he is the head team physician for the University of San Francisco and Sacred Heart Cathedral Prep.
Dr. Montgomery is the Chief of Training for the San Francisco Orthopaedic Residency Training Program. He developed and directs the arthroscopy bioskills lab at St. Mary's Medical Center where he is also Vice Chairman of the department of Orthopaedic Surgery. His interest is in arthroscopic and reconstructive surgery of the shoulder, knee and elbow.
He has been involved in clinical trials on the Collagen Meniscus Implant (CMI) and is an active investigator in the FDA SUN trial for the NUsurface meniscal implant. He is a leading expert in the field of meniscal scaffolds and treatment of meniscal deficiency. We look forward to hosting him in Mammoth Lakes for the 2017 Mammoth Sports Course.
Thanks to generous support from Mammoth Hospital we are able to sponsor a senior orthopedic resident or sports medicine fellow scholarship this year.
The scholarship will cover travel, lodging, and registration up to $1,500 and the opportunity to be an active participant in the course.
Interested residents or fellows should send a brief paragraph (no greater than 300 words) expressing their interest in the course and sports medicine, and an up to date CV to ortho@mammothhospital.com
DEADLINE for the scholarship application is July 1st!